There's a reason people say something is "my Everest" when they mean "I'm embarking on an uber-ridiculously-difficult task." And actually, compare pretty much anything to this epic trek and you're undoubtedly exaggerating.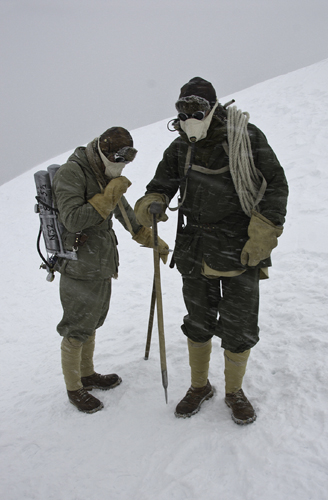 Conrad Anker and Leo Houlding wearing
replica 1924 kit. Their clothing included
six layers of wool and silk with a gabardine
oversuitand leather hobnailed boots.
Here is what it means to actually climb Everest:
–Temperatures so low that exposing any body part to air results in frostbite.
–2/3 less oxygen available to breathe by the time you reach the top.
–The final 848 meters are actually referred to as the "death zone."
–As of 2009, 216 people are known to have died in the attempt to reach the top.
Makes that 5K you're training for seem a little less daunting, huh?
Now – imagine dealing with those conditions in the 1920s – before anyone had ever been known to summit the mountain. George Mallory disappeared just a few hundred feet from the top in 1924, and the mystery of his death persisted for decades.
In 1999, explorer Conrad Anker found Mallory's body on Everest's north slope – with tantalizing evidence suggesting he made it to the top almost thirty years before the celebrated expedition of Sir Edmund Hillary.
The Wildest Dream: Conquest of Everest – opening Friday in IMAX at HMNS – chronicles Anker's discovery of Mallory's body and follows him in an attempt to summit Everest with 1920s era equipment – to see if it would have been possible for Mallory to have done it.
You can ask him how tough it was yourself – Conrad Anker will be here at HMNS for a lecture and film preview on Thursday, March 10! Get Tickets.
Conquest of Everest Contest: Enter to Win!
Win me! I'm full of great stuff, too!
Want to go on your own outdoors adventure? We're giving away two North Face backpacks filled with gear + tickets to see Conquest of Everest here at HMNS!
Two prizes to win! Each includes:
–Family Four Pack of Tickets to HMNS – including 4 passes to see Conquest of Everest at HMNS
–1 North Face backpack
–The Complete National Geographic – every issue since 1888 on DVD!
–National Geographic travel mug
–Arctic Tale on DVD
–A super-cute stuffed lion – and more!
Here's how to enter:
Super Easy: Leave a comment on this post
(one entry)
Just A Little More Involved: Tweet about the film at HMNS – and comment here with a link to your tweet
(one entry for blog comment + one entry for tweet = 2 entries)
You Heart IMAX: Blog about the film – and leave a comment here with a link to your post
(one entry for comment plus one entry for blog post = 2 entries)
So, you can enter to win up to three times (comment + tweet + blog post = three entries). 2 winners will be selected randomly.
You have until Thursday at 5 pm to post! We'll announce the winners here on Friday, March 11 – the day the film opens at HMNS!
UPDATE – WE HAVE WINNERS!
Thank you to everyone who commented, tweeted and blogged about Conquest of Everest! Our winners are:
Congratulations! Check your inbox for an email with details on how to claim your prizes!