Today's guest blogger is Tess Casswell, a Mission Control Operator at the Johnson Space Center here in Houston. Today she writes about how challenger space centers such as the one we have here at HMNS and at the George Observatory started her on the path to working for NASA. Start your own journey by joining us this Saturday for Family Space Day at the George Observatory!
I first participated in a Expedition Center event when I was 11 years old. At that time the Expedition Center of Alaska was in its development phase and I was immersed in the somewhat stereotypical, "when I grow up, I want to be an astronaut!" phase. Though I was still young, my parents saw this opportunity for inspiration. My Mother contacted the board of directors for CLCA and told them about their newest fan. Before I knew it I was giving a speech at a CLCA fundraiser in front of my heroes: astronauts Pete Conrad and Joe Allen. The timing of the event was perfect: the very next day I got on a plane and headed for Space Camp in Titusville, FL.
My Expedition Center experience set me on a course that landed me as a Mission Control Operator here at Johnson Space Center in Houston.
During the CLCA fundraiser, Joe Allen told me that to become an astronaut I should become an engineer. I followed his advice and now I monitor the Environmental and Thermal Operating Systems (ETHOS) of the International Space Station. While my excitement about space flight began before CLCA was developed, my first CLC experience gave direction to my enthusiasm.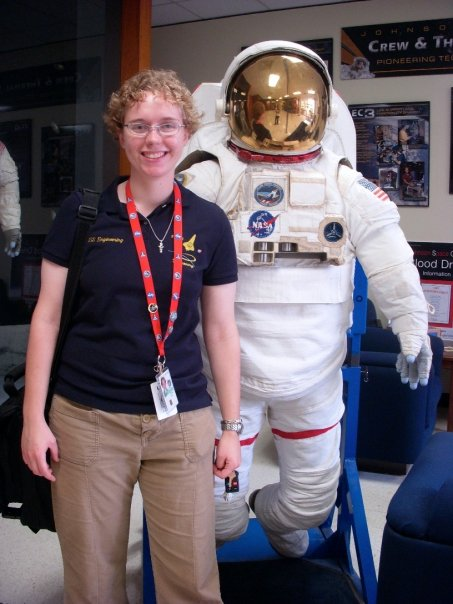 Because the Expedition Center played such a pivotal role in inspiring me to pursue engineering, I do my best to make time for Expedition Centers wherever I live. During middle and high school I volunteered often at CLCA. I participated in several missions throughout the years and helped out with numerous summer camps. Of course, every time an astronaut visited Alaska I was able, through CLCA, to meet with them and pick their brains about how they reached their goals! Later, as a student at the University of Alaska Fairbanks, I returned as often as possible to the Expedition Center to participate in STEM outreach events.
Now that I live in Houston, I go often to the Expedition Center at the George Observatory. The missions there are fun and dynamic, and the observatory environment makes the location (and the groups who go there) unique! I hope that by volunteering I am able to pay forward the inspiration that the Expedition Center gave me.
Recently the NASA Education web site did a feature on Tess.
Upcoming Family Space Day at the George Observatory!
Come out to the George Observatory this Saturday for out-of-this-world fun! The Observatory is hosting Family Space Day, and this weekend there will be more fun than ever before. We hope you'll join us for the adventure.
First, fly to the Moon on a simulated space mission aboard the Space Station Observer at the Expedition Center.  Train just like the astronauts – you'll run science experiments and control the spacecraft during your simulated voyage and landing. You may even have to overcome obstacles like meteor strikes and computer failures in order to land safely!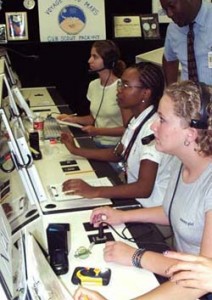 After returning safely from your simulated flight you will have the opportunity to speak with real NASA engineers and flight controllers who will be hosting various activities. Operate a robotic arm, build and launch a water rocket, or enjoy the exhibits at the Observatory – there will be a ton of cool, educational things to look at and experience!
It doesn't stop there, either. Purchase a ticket for the George's 36-inch telescope and be amazed by up-close-and-personal views of the heavens. Whether you get the chance to look at a galaxy light-years away or something as close as our very own Moon, the view is well worth the $5 ticket. Outside of the big telescope you will also have the opportunity to view the stars through various telescopes provided by local volunteers.
In short, it's going to be awesome… so don't miss it!
See the Observatory's website for all of the details.