Last week Melodie wrote a blog asking how much you knew about Texas. As we prepare for the opening of our new exhibition Texas! Making History Since 1519, we are dedicated to helping you learn more about the great Lone Star State. So today, Amanda Norris and Pat Dietrich, youth educators at the museum, write to you about Stephen F. Austin.
Stephen F. Austin – general store employee, lead mine manager, circuit judge, diplomat, empresario, and Father of Texas!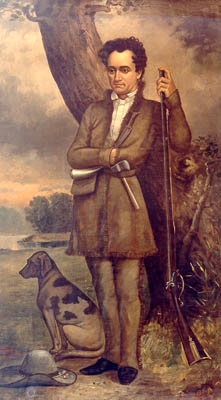 The Father of Texas…Is Born
Stephen F. Austin was born in 1793 in Virginia. His parents sent him at an early age to be educated in Connecticut and then later in Kentucky. After he graduated he moved to be with his family in Missouri to work in his father's general store and manage his lead mine. He later became a circuit judge in Arkansas. After his father unexpectedly passed away, Stephen decided to carry out his father's vision by moving to Mexican Texas and establishing a settlement.
Stephen F. Austin: Explorer
In 1821, he traveled to San Antonio where the governor authorized his efforts to explore the Texas land between the San Antonio and Brazos Rivers.  Stephen then visited New Orleans and invited colonists to settle on land between the Colorado and Brazos Rivers in Mexican Texas. By December of 1821, many settlers had arrived. However, the new Mexican government, created after Mexico's independence from Spain on August 24, 1821, denied Austin's land grant (which was in his father's name).
The Old Three Hundred
As a result of this new development, Stephen Austin traveled to San Antonio to get approval for his own settlement. He was appointed as an empresario and approved to establish 300 families. He fulfilled his initial contract for 300 families within a few years of his first grant approval. He would later receive contracts for 300 more families in 1825, 1827, and 1828. While they were under Mexican government authority, it was his job to maintain a settlement with people who would be good Mexican citizens. After the Constitution of Coahuila and Texas in November of 1827, Stephen F. Austin turned over authority of his settlement to the Mexican government.
Austin attempted to provide protection for his colonists, many of whom had moved from the United States to escape debts incurred there during difficult economic times. He helped pass a state law that prevented the U.S. from collecting these debts for a period of 12 years. He organized trade ports between the colonists and Mexico. Even though he helped protect his colonists, he never let them forget the benefits of being loyal Mexican citizens.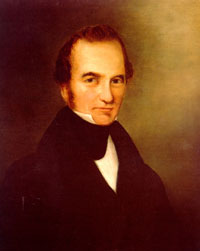 More Settlers Arrive…In Droves
By 1832, more empresarios established settlements around Stephen F. Austin's original settlement near the Colorado and Brazos, the families there being dubbed "The Old 300." With so many U.S. settlers in Mexican Texas, it became difficult for Stephen to continue his overly cautious form of leadership.
The United States wanted to buy Texas, which made the Mexican government nervous about so many U.S. settlers in their country. In response to the perceived threat, the Mexican government passed the Law of April 6, 1830 which disallowed immigrants to move from the United States to Mexican Texas.  The Mexican army was sent to the established settlements throughout Texas to enforce the new law. Stephen F. Austin sided with Santa Anna against the current Governor of Mexico in hopes of gaining his support and maintaining the peace in Texas.
Agitated Colonists
The agitated colonists met at a convention in 1832 to inform the Mexican government about their needs. They requested the repeal of the Law of 1830, no more tariffs, separation from Coahuila, and to be able to set up a state government in Texas. Stephen F. Austin hoped the Mexican government would recognize the need for change, but they did not.
A second convention was organized in 1833; this group asked for what had been requested in 1832, but they also wanted a constitution to be written for the state of Texas. Stephen F. Austin set out for San Antonio to obtain a repeal of the Law of April 1830. Santa Anna disagreed with his actions and had Austin arrested and imprisoned. He was released in December of 1834.
Austin sanctioned the call for a consultation, where delegates would be elected on November 3. Meanwhile, war had broken out in Gonzales on October 1, when Santa Anna sent his army to retrieve a cannon given to the city for defense against neighboring Indians.
Battle Against Santa Anna
Stephen F. Austin, elected to command the volunteer army, led his volunteers in a battle against Santa Anna in San Antonio. In November, the provisional government elected him and others to serve as commissioners to the United States. He returned to Texas in June of 1836, two months after the Battle of San Jacinto. He ran against acting President David Burnet and the Commander of the Texas Army, Sam Houston, but was defeated by the Commander. Austin was appointed Secretary of State by President Sam Houston, a post he would only serve for two months before his death.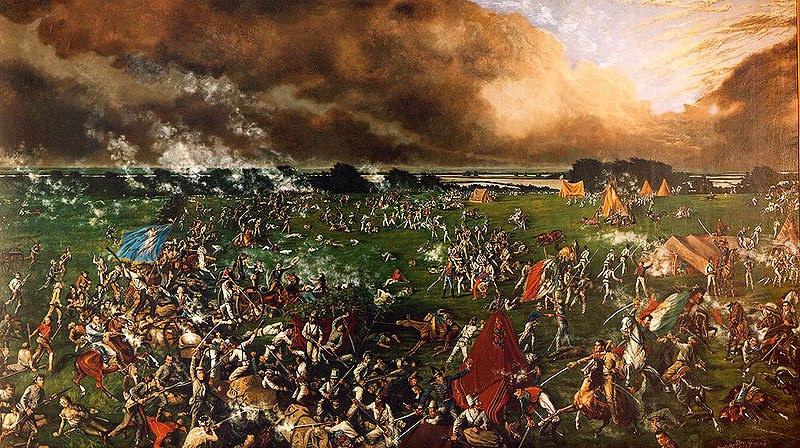 Henry Arthur McArdle interpretation of the Battle of San Jacinto.
On December 27, 1843, Stephen F. Austin died at the age of 43. His determination, strong management, and leadership helped shape the Texas wilderness into the state we know today. For these efforts, he is known as the Father of Texas.
Learn even more about Texas in our new exhibition, opening to the public on March 6, 2011. Get a sneak peak at the exhibition during our Texas VIP Nite, March 2 from 6 to 8 p.m. And stay tuned to the blog as we highlight other important people and events throughout the run of the show.