Fish Pieced Together by Committee
Our HMNS at Sugar land exhibition on Archaeopteryx is festooned with splendid finny fossils, the ichthyological gems of the Late Jurassic. Some of the Jurassic fish were new comers, recently evolved clans that were poised to conquer the watery ecosystem. Teleosts are one such progressive group.  But there are Jurassic living fossils. These are old, old clans that had evolved a hundred million years before the Jurassic, or more. And these groups had stalled out, in evolutionary terms, changing little.
Chimaeras, the "ghost sharks," are the most exotic of the Jurassic living fossils. The label "Chimaera" evokes the mythological critter that was put together with spare parts from many species. The real chimaera fish do seem to be constructed that way. The huge eyes and  nibbling snout look like a rabbit's, inspiring the label "Rabbit Fish." The front fins are huge, resembling those of a butterfly-fish. The tail is long and thin, like a rodent's – hence another nickname "Rat-Fish."
In fact, Chimaeras are distant cousins of sharks and rays.
Chimaeras were already an antique group by the Jurassic, with an origin going back almost to 400 million years ago. The body form had been standardized by the Coal Age, 330 million years ago. The key feeding feature was the solid, strong, stiff heads. Teleost fish gained success by loosening up face and jaw bones, so the mouth could expand. Chimaera evolution went the other way. Their skulls were solidly knit together, with jaws, face and braincase units braced against each other.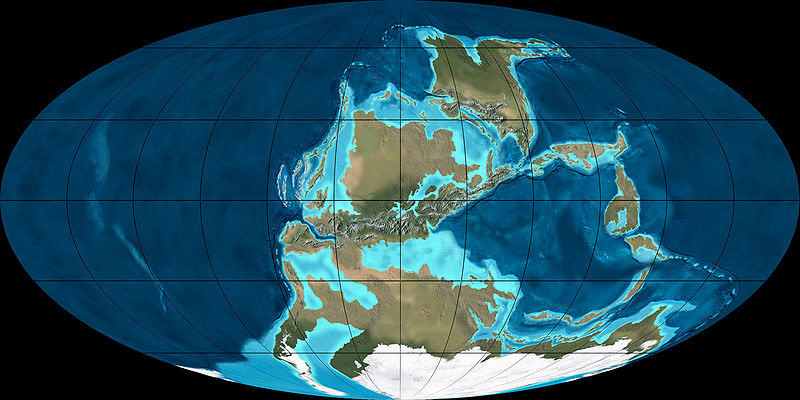 Global paleogeographic reconstruction of the Earth in the late Carboniferous ("Pennsylvanian")
period 300 million years ago.

photo credit: Dr. Ron Blakey
The solid chimaera skull was co-evolved with flat, thick teeth that could crunch and crack crabs, clams and all sorts of other hard-shelled teeth. In other words, the chimaera was the fishy equivalent of a sea-otter. For protection, chimaeras were outfitted with a sharp, tall spine at the front of their dorsal fin.
Even though they hadn't upgraded their adaptive equipment for a long time, Jurassic chimaeras continued to succeed as  bottom-hunting predators of shellfish. And they kept on going, and going, and going….
….surviving through Period after Period. They're still around today. In their anatomy, the modern chimaeras are barely different from the Jurassic species. But habitats have changed dramatically. Jurassic chimeras thrived in shallow water of the Solnhofen lagoons and reefs. And the earlier chimaeras too were mostly inhabitants of the shallows. Most species alive now are  deep-water specialists. The same slide from shallow to deep water happened to one group of bony fish, the coelacanths.
That's a general evolutionary principle: fish that ranged through upper waters in the past tend to get restricted to the deep today.  Why? Maybe new predators and competitors tend to evolve first in shallow water. And thus shallow water becomes the most dangerous place for old clans who don't evolve fast. Going deep may free the old-style fish from many of the exuberant new clans.
Maybe….
Learn more about evolution by visiting our unique collection of fossils in Archaeopteryx: Icon of Evolution, now on display at HMNS at Sugar Land.