If you missed part 1 of my women pirates blog, fear not: you can still read it here.

Compared to the West, the Far East was much more accommodating toward women on ships. In fact, it was noted that pirate communities in the Far East had no settled residences on land. Rather, they lived constantly on their ships with their entire families. Thus, it was not uncommon for women to take an active role in handling ships and sailing them into raids.
Ching Shih: History's Most Successful Pirate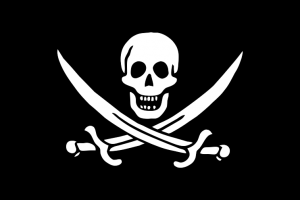 It was against this backdrop that Ching Shih started life as a prostitute in Canton before marrying the leader of a pirate band named Cheng I. When her husband died in 1807, she positioned herself well among her relatives and assumed command of the pirate navy. She assigned her husband's adopted son, whom she later married, to command the primary pirate fleet.
She was, for all intents and purposes, the pirate community's CEO, concerned with long term strategic planning and policy. Her second husband, Chang Pao, was the Chief Operating Officer, concerned with the day-to-day running of the community. Between the two of them, they put in place a strict code of conduct that beheaded anyone caught stealing from the common treasure, and even dealt with the issue of rape by beheading, which is unusual for a pirate community.
A Pirate Armada
For three years, the pirates fought off all government attempts to bring them to justice with the final result being the loss of 63 government vessels. At the height of its power, the pirates had some 200 ocean going junks with 20 to 30 cannons apiece. There were a number of smaller, river-going vessels as well that ensured that coastal communities paid for the pirates' "protection."
It was not until Chinese officials enlisted the help of English and Portuguese warships, combined with an ever-increasing number of Chinese naval ships, that Ching Shih took the initiative to meet with the emperor and amnesty was offered. As she was negotiating from a position of strength, she was able to ensure that her sailors were able to keep all of their plunder and join the military as experienced fighters once they gave up their ships and weapons. Based on this agreement, her husband joined the military at the rank of Lieutenant and eventually rose to the rank of Colonel before his death at the age of 36.
After her career as a pirate, Mrs. Cheng led a peaceful life running a gambling house until she passed away at the age of 69 in 1844.
This is my final post for the HMNS blog on Pirates!
Check out previous posts to read up on pirate history and lore – and come see me at the Houston Maritime Museum and see a wide variety of ships, including those used by pirates, on display.
How To Rule the Sea: A Guide For Privateers 1500s – 1800s
Jean Laffite: Texas Pirate
Pirates: Romance vs. Reality
Real Pirates: Attackers, Thieves…Equal Opportunity Employers?
Women Pirates – Scourges of the High Seas! [Part 1]
Real Pirates is in its final weeks! Preview this stunning exhibit in the slideshow below. Click here to view if it loads slowly.