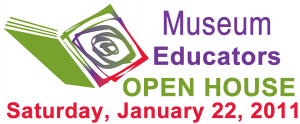 Museum Educators Open House
Tomorrow – January 22, 2011,
9 a.m.  – 1 p.m.
Thinking of including a trip to the Houston Museum District for your class? Interested in professional development opportunities at some of Houston's coolest venues? Want a Museum docent or staff member to bring artifacts or demonstrations to your classroom for an extra boost before those standardized tests or just as a cool surprise for a great semester?
You can learn about what 42 of Houston's Museums have to offer this Saturday as the Houston Museum District presents the Museum Educators Open House!
Museum Educators Open House is a conference style event free of charge for registered Educators from 9 a.m. – 1 p.m. followed by the opportunity to visit participating Museums until their doors close on Saturday with your MEOH wristband!  
Register and download the day's program on the Houston Museum District website here!
HMNS is one of the host museums (all within walking distance) where many of the day's presentations will be held in 14 of our classroom spaces in the lower level of the Museum. Educators who attend for at least 3 hours, attend at least 3 presentations and show up between 12 p.m. and 1 p.m. at one of the participating host museum's registration table to trade in your "passport" for a certificate of attendance.
Extra special things that HMNS is offering for the Educators participating in MEOH 2011 include discounted tickets for educators to visit our special exhibitions Real Pirates and Forgotten Gateway – as well as an awesome 20% discount in the HMNS gift shop!
We hope to see you all here on Saturday!!