This blog entry deals with our current Secrets of the Silk Road exhibit. It connects several topics, all related to our current exhibit. We start with the stars at the center of the show: people, and the history of their presence in the region. Next topic: the stuff we humans carry with us and eventually leave behind. We all know that the amount we accumulate in our lifetime can be quite considerable. Can the same be said about the ancient inhabitants of the Tarim Basin?  We end with some observations about the museum aspect of putting an exhibit like this together.
Topic One: the people along the Silk Road and the history of human presence in the region.
Human presence in this part of the world goes back thousands of years; if one were to include earlier human ancestors, we can extend that time frame to hundreds of thousands of years, when Homo erectus lived in China. Interesting as this great antiquity of human presence in Asia might be, the time frame covered in this exhibit starts a "little" later.
The title of our current exhibit is "Secrets of the Silk Road." I find it interesting that historians have come up with start and end dates for the Silk Road. They argue that the year 138 BC marked the beginning of the Silk Road. For almost a millennium and a half afterward, the land-based Silk Road was a conduit along which people, objects, languages, customs, and religions moved around. According to historians, by 1368 AD the land-based Silk Road withered away. Soon thereafter, the so-called Maritime Silk Road picks up where the other one left of.
Anyone interested in maritime history, and especially maritime archaeology, will know the there is an excellent program at Texas A&M University. It will therefore not come as a surprise that a Chinese underwater archaeologist, trained in Texas, was instrumental in raising a ship dating back some 800 years. It plied its trade as part of this Maritime Silk Road. (As an aside, the early 15th century also saw massive fleets of exploration leave China, a topic explored in a wonderful National Geographic exhibit a few years ago.)
While we can marvel at the certainty with which historians pinpoint the start and end of the Silk Road's existence, we should not forget that modern humans (as opposed to Homo erectus mentioned earlier) were migrating from west to east and vice versa almost 2000 years before the Silk Road officially opened. These mummies found in Xinjiang cover a broad range of phenotypes, another way of saying that some look more Caucasoid and others more Mongoloid or East Asian. About 400 mummies are known today. Most of them are in the museum in Urumqi, others can be seen in smaller regional museums in the Tarim Basin.
That makes the observation made earlier about the time frame of the Silk Road and the precedence of the mummies doubly interesting. Not only do we know of people following a pathway that eventually will become the Silk Road, most of the known mummies also do not look like the ethnic Han Chinese we associate with the area known today as modern China.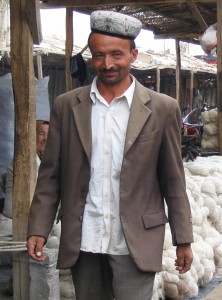 Uyghur man.
Image courtesy of Victor H. Mair
Add to that mix the story of the Uyghur population and their claim that the Tarim Basin mummies are their ancestors. That claim has now been proven to be incorrect. The Uyghurs, on the other hand continue to hold fast to that belief, scientific evidence notwithstanding.
Lately, there was more media buzz about the origins of the Uyghur people. Newspaper and magazine articles published during the month of November 2010 highlighted suggestions that the physical appearance of some Uyghurs could be due to the fact that they are descendants of Roman POW's that were brought to the region. Green eyes, long noses and even fair hair, all fuel speculation that some Uyghurs have European blood.
However, scholars like Dr. Maurizio Bettini, a classicist and anthropologist from Siena University, dismissed the Roman legion theory as a "fairytale." He told La Republica: "For it to be indisputable, one would need to find items such as Roman money or weapons. Without proof of this kind, the story of the lost legions is just a legend."  Medical scientists have concurred with this assessment, after an analysis of Y chromosome material. And so we have another interesting story that gets relegated to the category of myth.
Topic Two: the artifacts left behind by the people.
During the countless millennia that people have been moving through this region, as well as settling in this region, they have left lots of material clues behind. This helps us in many ways to reconstruct what they were doing, even where they came from. At the same time, for every question answered, there a ten more questions raised.
 A 1000-year old wonton on display
Archaeologists have long known that people bury their dead with all kinds of gifts. They might reflect people's daily occupation, they might be mementos of the family they left behind; sometimes there was food left with the deceased. We have some of these food items on display.
Having trouble imagining what a 1000 year-old wonton looks like? Come see it at the museum. The act of placing food in the tomb was intentional. Sometimes, however, objects are preserved accidentally. Consider this: we are all familiar that sometimes people use newspaper to pad their shoes, to make them fit more easily. It appears that sometime during the middle of the 7th century AD, this was also practiced in the Tarim Basin. We have on display, a U-shaped document, containing a list of names of households and their property in Xizhou Prefecture. Even though the document was cut to size, historians were still able to extract a good bit of information from the document.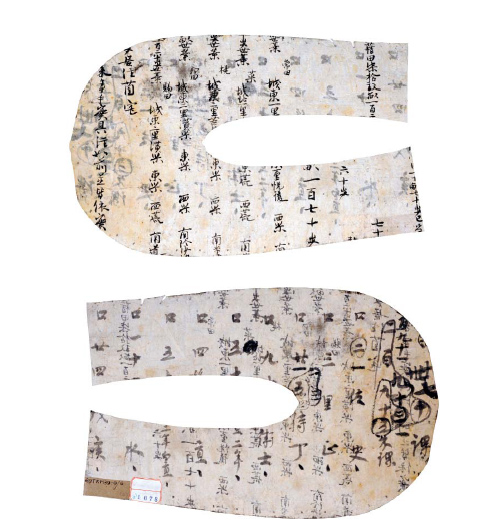 Household declaration of Gaochang County, Xizhou Prefecture
Topic Three: how does one put all of that together in an exhibit?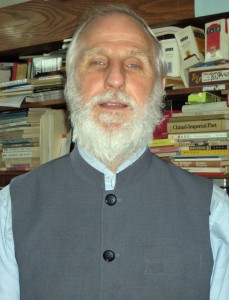 Dr. Victor H. Mair
As with all museum exhibits, it takes a long time to prepare for exhibits like these. Our current exhibit was put together by the staff at the Bowers Museum in Santa Ana, California. They were the ones who reached out to Chinese museums and develop the storyline.
One of the leading scholars in the field, Dr. Victor Mair, associated with the University of Pennsylvania Museum of Archaeology and Anthropology in Philadelphia, put together the catalogue.
When Dr. Mair visited Houston, he marveled at the care that went into the exhibit. We have, for example, an equestrian statue on display. It shows a well to do woman traveler wearing a broad-rimmed had. There is a veil hanging from the rim of the hat. This statue, veil included is more than a 1000 years old. Dr. Mair complemented the diligence and care shown by all museum specialists in packing and displaying such a fragile item. I could not agree with him more.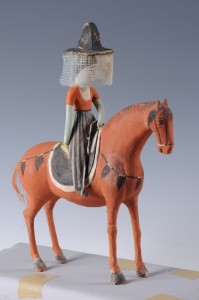 Equestrian statue