Maybe you have heard this Shark Myth:
The Great White is a Living Fossil, a man-eating hold-over from the dim reaches of time.
No.  It is true that the oldest sharks do go back to 400 million years ago. However, an enormous amount of evolutionary change separates these primordial sharks from a modern-day Great White Shark. The final episode of shark modernization didn't really get going until the Jurassic about 150 million years ago. The vertebral columns became far firmer and stronger, so the body and tail muscles could contract with greater power – and that meant faster speeds. The Great White and many other sharks alive today inherited their firm vertebrae from Jurassic ancestors. Plus – this  Darwinian revolution gave some sharks, including the ancestors of Great Whites, bigger brains and more complex behavior.
Guitar Fish Rhinobatis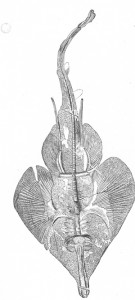 The modernized sharks that evolved in the Jurassic included the "normal" shaped sharks and the flat-bodied skate/ray group. The skates and rays of the Late Jurassic at Solnhofen had already evolved a modern stage of vertebral column, fins and jaws. Guitar-fish are rays with long, elegant, pointed snouts. The Solnhofen Guitar Fish Rhinobatis is so thoroughly modern-looking that it would look at home today in Bermuda or Sumatra. Wide, flat pectoral fins and a flat underside let the guitar-fish hug the sand while searching for shrimp buried beneath. Special sensory organs could detect the electrical impulses from living bodies hidden from view. They had tightly packed rows of small, blunt teeth worked to crush clams, snails and other hard-shelled prey.
For some mysterious reason, people the world over look at these flat sharks and think of folk music and rock 'n roll. Hence the nickname "Guitar Fish." Because of a difference in the culture of stringed instruments, the guitar fish are called by a different name in Russia: here they are known as "Balalaika Fish."
Poison Spine Sharks – Hybodonts
Solnhofen hosted both the most modern, advanced sharks and some hold-overs, families that were already a hundred million years old at the time. Hybodonts are an excellent example of ancient shark technology in body form. The vertebral column was still  constructed from soft connective tissue, not the tough cartilage of modern sharks. Hybodont teeth were dual function. Up front were sharply pointed nippers for grabbing prey. In the back were many flat teeth for crushing lobsters, crabs, snails, clams and sea urchins.
Hybodonts had the ancient way of protecting themselves from predators. They carried  poison-spines at the leading edge of the two dorsal fins. A gland at the base of the spine secreted venom that oozed up along a groove. Any predator that attacked would run the risk of getting a painful jab that would leave a throbbing wound.

How do we know about poison from hundreds of millions of years ago? Because there are some sharks today with this type of weaponry. The Horned Shark, Heterodontus, is a smallish species with a slow-swimming style. Both dorsal fins have spines, and venom is produced at the base of the spines. Horned Sharks are small enough to be swallowed whole by some bottom-living predators. But when the attacker feels the spines poking into the roof of its mouth, the Horned Shark is spit out with no harm done. The anatomy of Horned Shark spines is close enough to what we seen in fossilized hybodonts that we are safe to conclude that the hybodonts too were poisonous.
Another common shark alive today, the Spiny Dogfish, is also outfitted with hard spines and poison glands, though the toxic properties of the apparatus isn't as extreme as that of Horned Sharks.
Poison spines go way back in shark evolution, and both fresh-water and salt-water species were equipped with the venom-delivery system in the Coal Age, some 340 million years ago. It's intriguing that the modernization process in the Jurassic caused a shift – most of the new clans of sharks would give up the bigs spines. Great Whites are not protected by spines, nor are Tiger Sharks, Blue Sharks, Bull Sharks and most other "normal" sharks.
Why did so many progressive sharks discard the venom-delivering spines? The loss of spines occurred as the most advanced bony fish were shifting from thick, armored scales to thinner, more flexible body coverings. It looks like evolution favored speed and agility over passive defensive structures.
Learn more about evolution by visiting our unique collection of fossils in Archaeopteryx: Icon of Evolution, now on display at HMNS at Sugar Land.