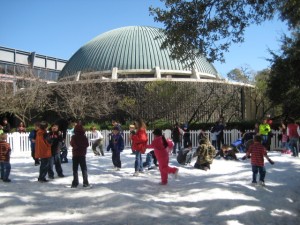 What do snow, Santa and science all have in common? They can all be found at HMNS.
On Saturday, Dec. 4, Santa takes time out from his busy pre-Christmas work schedule in the North Pole to visit HMNS for Snow Flurry. And Santa won't be coming alone! He's bringing one of his reindeer and 80,000 pounds of snow with him!
5 things you may not know about SNOW:
1. Snowflakes take different shapes depending on the temperature at which they are formed! They can be hexagonal, needles or dendrites, among others.
2. The size of a snowflake is determined by the number of collisions it experiences in the atmosphere, and how much melting occurs on its way to the ground.
3. New York State is home to the snowiest cities in the US: Syracuse, with an average of 115 inches a year, and Rochester, with 93 inches per year. However – almost every area of the country has seen snow fall at least once, including Florida!
4. The first person to photograph a single snowflake was Wilson A. Bentley in 1885; his photographs are digitally archived online.
5. Snow flakes are not always white. When they absorb particles in the atmosphere – like coal dust – the color of the flakes reflects that composition. In the case of coal dust, the flakes would be gray.
Snow is in the forecast in Houston! Don't miss your chance to see the greatest winter wonderland in town at Snow Flurry on Dec. 4 from 10 a.m. to 4 p.m.
Purchase your tickets online in advance. And, check out the video below; KHOU-TV's Gene Norman tells us all about Snow Science!