Last week a version of the show 'Archaeopteryx: Icon of Evolution' arrived at the Houston Museum of Natural Science at Sugar Land.  There are around 70 authentic fossils on display including the Geosaurs, Guitar Fish, several fossilized corals, insects, fish, plants and a cast of the Thermopolis Archaeoptertyx.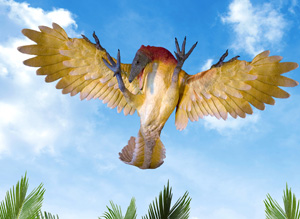 Check out the HMNS exhibit in Focus On: The Thermopolis Archaeopteryx [Pete Larson] from HMNS on Vimeo.
There have been lots of posts in the past year on the Archaeopteryx show here on the blog so take some time to refresh your memory on all there is to know!  And then come down the HMNS at Sugar Land to see these amazing and one of a kind pieces for yourself!