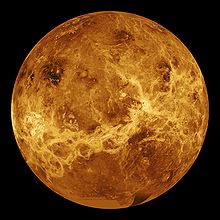 Venus passes between the Earth and sun on October 29, an alignment known as inferior conjunction. 'Superior' conjunction occurs when Venus passes around the far side of the sun. As a result, in October 2010 we see Venus stop its apparent forward motion and shift back towards the sun—it will soon leave our evening skies.  For now, you can look for Venus low in the southwest at dusk. After next week, however, Venus sets during twilight.
Mars is above Venus (and much, much dimmer) as October opens; it remains low in the southwest at dusk after Venus is gone.
Saturn aligned with the sun on September 30 (i.e., it was at conjunction), so we haven't gotten a good look at it in a while.  Near the end of this month, though, you can begin to look for the ringed planet low in the east at dawn.
Jupiter dominates this month's evening skies.  Up literally all night long late last month, the king of planets is now well placed for observing in convenient evening hours.  It outshines all stars in the sky, so it's easy to find.  Face southeast at dusk, and you can't miss it.
The Big Dipper happens to be to the lower left of the North Star at dusk this month; you'll need a clear northern horizon to get a good look at it.  Sagittarius, the Archer, known for its 'teapot' asterism, is in the southwest.  Look for the enormous Summer Triangle, consisting of the stars Deneb, Vega, and Altair, high in the west.   As familiar summer patterns shift to the west, the constellations of autumn take center stage.  The Great Square of Pegasus is high in the east at dusk.  The star in its upper left hand corner is also the head of Andromeda.  Facing north, you'll see five stars in a distinct 'M' like shape—this is Cassiopeia, the Queen.  Her stars are about as bright as those in the Big Dipper, and she is directly across the North Star from that Dipper.  In fall, while the Dipper is low, Cassiopeia rides high. The vast stretch of sky under Pegasus is largely devoid of bright stars—ancients called this the 'Celestial Sea."  The only first magnitude star in the entire region is Fomalhaut, in the Southern Fish.  Jupiter's stark brilliance is even more remarkable against this dim backdrop.
A comet may become visible to the naked eye later this month.  If you recall comets Hyakutake and Hale-Bopp from the '90s, this one won't be quite that bright, but it should be visible from dark sites when no moon is out, and definitely visible in binoculars.  It is Comet Hartley 2, and it makes its closet approach to Earth, at just 0.12 AU, on October 20.  On that date it will appear near the star Capella in Auriga. Therefore, it will rise in the northeast at dusk on that evening and be visible all night long for us.
Moon Phases in October 2010:
New Moon                       October 7, 1:44 p.m.
1st Quarter                     October 14, 4:25 p.m.
Full Moon                        October 22, 8:37 p.m.
Last Quarter                  October 30, 7:46 a.m.
Saturday, October 16, is our annual Astronomy Day at the George Observatory. Come join us anytime from 3 to 10 p.m.  On Astronomy Day, it is free to look through even the main domes at George.  Before dusk, we will have solar observing, Expedition Center simulations, outdoor and indoor presentations (beginning at 4) and many other activities!  Surf to www.astronomyday.info for more information.