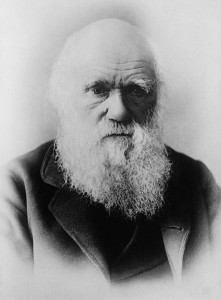 1859: Charles Darwin published "On the Origin of Species." Other scientists had proposed evolutionary theories before but Darwin was the first to work up a detailed case of how natural processes could transform one species into another.
Darwin claimed that even Classes could change – for example, the Class Reptilia could evolve into the Bird Class Aves.
"Where is the fossil proof??" exclaimed doubters. "Where is a transitional fossil that links one Class with another?"
The absence of missing links between Classes bothered Darwin.
………………………
Class to Class evolution would have to bridge immense gaps in anatomy and physiology:
Reptiles are a "Low Class." They're cold-blooded and can't raise their body temperature much without basking in the sun. Birds are hot blooded and have so much metabolic heat that they can keep warm even in the snow.
Reptiles have scaly skin. Bird skin is clothed in feathers.
Reptiles have small, weak hearts and lungs. Birds have huge hearts and extremely efficient lungs.
Reptiles have small brains. Bird brains are gigantic, compared to their body mass.
Reptiles usually don't spend much time in caring for their young. Birds lavish parental care on their babies.
Before 1861, it was hard to imagine how evolution could remake a reptile and make it into a bird.
……………..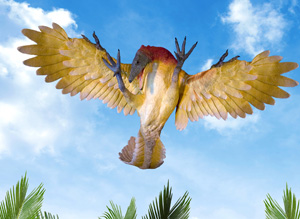 Archaeopteryx changed all that. It was a bird because it had the complex flight feathers clearly preserved.  Feathers implied hot-bloodedness. And the brain appeared to be bigger than what a typical reptile had. Plus – the hind legs had long, narrow ankles, like a bird's, not the flat-footed feet of a reptile. Archaeopteryx had three main hind toes pointing forward and a smaller toe pointed inward – the bird pattern, not the five-toed hind paw of a typical reptile.
The Archaeopteryx wing had three fingers arranged like a bird's, not five as in most reptiles.
But Archaeopteryx  possessed extraordinarily primitive, reptilian features too. The tail had a long line of bony vertebrae. Modern birds have only a short, stubby vertebral column in the tail. Archaeopteryx had the three fingers of the hand separate instead of having the outer two fingers fused together.
Archaeopteryx had big, sharp claws on each of the three fingers instead of the blunt-tipped fingers of typical birds.
And Archaeopteryx had a mouthful of teeth instead of a modern bird's beak.
More evidence of how birds evolved came in 1868. Professor Cope in New Jersey and Professor Huxley and Phillips in Oxford showed that meat-eating dinosaurs had been put together all wrong. Dinosaur legs weren't flat-footed and five-toed. Carnivorous dinosaurs, in fact, had long, slim legs with ankles held high off the ground, and the hind foot had three main toes pointing forward. So these dinosaurs had bird-style legs.
Dinosaurs bridged most of the gap between primitive reptiles and Archaeopteryx. Most progressive paleontologists accepted the theory that Archaeopteryx evolved from a dinosaur.
The case became iron-clad in the 1880's to early 1900's. Excavations in the American West uncovered small meat-eating dinosaurs, like Ornitholestes, that had very long arms that matching those of Archaeopteryx closely.  The missing links were no longer missing. A primitive reptile had evolved into a primitive dinosaur which evolved into an advanced meat-eating dinosaur. And that dinosaur had evolved into Archaeopteryx, which in turn evolved into modern birds.
This is your last chance to see Archaeopteryx at HMNS. The exhibit is closing after labor day weekend. Don't miss your chance to see the only Archaeopteryx on display in the Western Hemisphere.