The "Great Planet Race" in the western evening sky this summer is beginning to wrap up; Venus has caught up with Mars as they both leave Saturn behind. As these planets set in the west, though, another rises in the east at about 9:30, and will have cleared most buildings and trees by 10 p.m. And this one is involved in a conjunction of its own.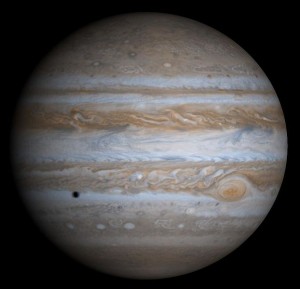 This is none other than Jupiter, king of the planets. Once Jupiter rises, it is easy to find because it outshines everything in the sky except the sun, the moon, and Venus.  Just look east for the brightest thing in the night sky.  Last I checked, Jupiter is still missing one of its belts.  For the rest of this year, Jupiter remains well placed for observing in convenient evening hours.  If you have a telescope, watch for yourself and see if the belt returns!
Although Jupiter seems to be by itself among the much, much dimmer stars of Pisces, it in fact has a close companion that few of us ever get to see without a telescope, the planet Uranus. We typically identify Mercury, Venus, Mars, Jupiter, and Saturn as the five naked eye planets, and for practical purposes, that's true.  However, Uranus is actually visible to the unaided eye under perfect conditions.  In the time before man made light dimmed the skies, many people could see Uranus.  However, they were unable to recognize it as a planet because it is dim and changes position very slowly. (It takes 84 years for Uranus to reappear near the same stars).  Thus Uranus, although plainly visible, went undiscovered for centuries.  For example, in 1690, John Flamsteed was cataloguing stars and constellations, numbering stars in each constellation from west to east.  However, the 'star' he catalogued as '34 Tauri' (#34 in Taurus) was in fact the planet Uranus.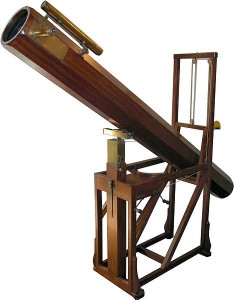 Replica of Herschel's telescope
In March 1781, William Herschel became the first to identify Uranus as a planet when he observed it in his telescope.  As Uranus is about twice as far from the sun as Saturn, Herschel's discovery doubled the size of the known solar system.  Herschel wanted to call the new planet 'George' (actually Georgium Sidus in Latin) after his patron, King George III.  German astronomer Johann Elert Bode, who had calculated an orbit for the new planet, suggested calling it 'Uranus' because in Graeco-Roman myth, Saturn had been the father of Jupiter and Uranus the father of Saturn. 
Here are charts showing the relative positions of Jupiter and Uranus from now into the new year.  The event depicted is a triple conjunction, in which two outer planets align on three separate occasions only a few months apart.  This occurs when distant planets align while Earth is on the same side of the sun as they are.  As Earth passes the slower outer planets, we see them slow down, stop, and reverse direction for while.  We see the planets resume direct motion once Earth has pulled far enough ahead on its much faster inner orbit.  As a result, we see three conjunctions instead of just one.  The three closest alignments of Jupiter and Uranus occur on June 8, 2010, September 18, 2010, and January 3, 2011.  At all three, Jupiter is less than one degree (about the width of an adult's pinkie held at arm's length) under Uranus.  The conjunction of June 8 occurred in the morning sky, but the two yet to come will be visible in convenient evening hours.  On the night of September 20-21, Earth is directly in line with the pair, causing them to rise at dusk at set at dawn–Jupiter and Uranus will be up all night long.  By winter, Jupiter and Uranus will be high in the south southwest at nightfall. 
Late 2010 is a good time to get a glimpse of a world we don't usually notice in the sky.  A small telescope or even binoculars will reveal Uranus.  And if you find yourself away from the city on a moonless night, see if you can pick out which of the dim points of light just above Jupiter is a little more than meets the eye.