The Silk Road, a series of trade routes extending thousands of miles through which people, ideas and goods moved East to West, crossed high mountain ranges and extensive deserts. Its very existence is a testimony to mankind's never-ending desire to explore.
"The mummies on display in the Silk Road exhibit underscore the great antiquity of these migrations," said Dirk, our curator of anthropology. "This is what makes this exhibit so interesting."
Well, that and the 150 stunning, ancient artifacts discovered along this famed passage – including some of the most astonishingly well-preserved human remains ever discovered. Even at 3,800 years old, "The Beauty of Xiaohe" continues to turn heads (see below). Over 100 mummies like her were discovered in China's Tarim Basin, wearing Western-influenced textiles and possessing surprising technologies and customs. Not only is the identity of these extraordinary people a mystery – but they prove that there was trade in both goods and genes in this region almost 2,000 years before the passage was previously thought to have been in use.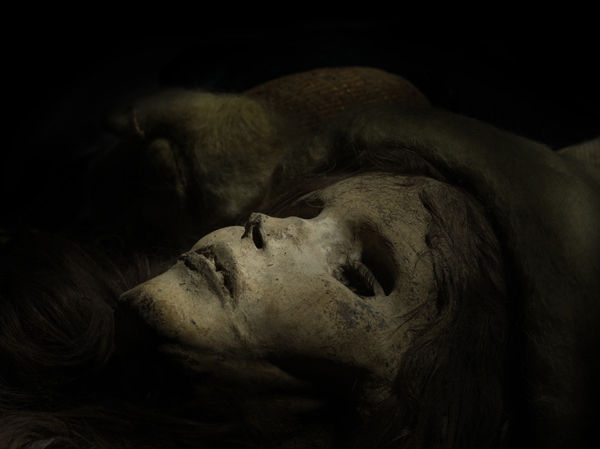 The Beauty of Xiaohe, stunningly well-preserved at 3,800 years old.
So…got questions? I know I do! The Museum is hosting an Online Chat with our curator of anthropology, Dirk Van Tuerenhout, on Tuesday, August 24 at 7 p.m. You can ask questions and get a preview of this astonishing exhibition.
Silk Road Online Chat!
Tuesday, Aug. 24 at 7 pm
Register
Can't wait? Post your questions in the comments section below! Dirk will address all questions during the event and in a q&a post following it.