Editor's Note: Secrets of the Silk Road opens in just two weeks! Join us opening weekend for a special, free family program: Camels of the Silk Road, from 12 – 4 pm. Camel connoisseur Doug Baum is bringing 6 camels to the Museum for a fascinating educational program. There will also be camel crafts for kids! Doug has given us a little preview of what's to come on opening weekend in a guest post below.
Try applying for a bank loan, having to explain, "I'm a camel rancher." Next time you're on a flight and your seatmate makes small talk, asking about your job, answer with, "I guide camel treks in the Middle East." Or, try convincing your father-in-law you'll be able to take care of his daughter as you grow your camel business!
Now I'm tasked with introducing myself to you, the followers of the Houston Museum of Natural Science blog.
I'm Doug Baum, owner of Texas Camel Corps, a business (admittedly unconventional) dedicated to cultural, historical and environmental education using camels. My family will be bringing six of them to HMNS for an afternoon of programs on opening weekend of the Secrets of the Silk Road exhibition Saturday August 28, from noon to four o'clock. Programs will focus on the camel's role in cultures along the historic paths as well as environmental adaptations the camel uses to survive in extreme climates.
This is really exciting for me, but it's not the camels' nor my first trip down the Silk Road. In 2002, when famed cellist Yo-Yo Ma helped organize the Smithsonian's Annual Folklife Festival celebrating the Silk Road, I was honored to present programs on the National Mall for two weeks. Closer to home, our camels visit Texas schools, libraries, faith-based institutions and museums throughout the year.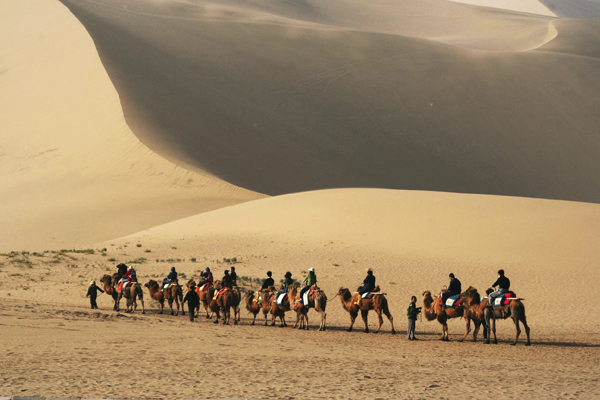 Now I know those hardened camel men, as well as the camels working the oriental trade routes, had it tough: the varied conditions of plains, deserts and mountains are nothing to sneeze at, not to mention disease and banditry along the way. But as I plan my camels' next journey down the Silk Road, the logistics I have to consider carry their own challenges. Hauling six camels from our farm in Central Texas to Houston may not be like going from Xi'an to the shores of the Mediterranean, but I bet my pre-trip checklist isn't that different. Water, check. Foodstuff, check. Camels, OOPS! I should introduce my camels. They're really the stars of the show.
Along for the ride will be Irenie, Gobi, Richard, Marianne, Ibrahim, and Xi'an (yes, really!). Gobi and Xi'an are appropriately-named Bactrian camels, the two humped variety native to Central Asia, while the other four are Arabians, the more common and numerous one-humped species found from North Africa through the Middle East and into India. I've decided to bring both species, as well as a variety of camel-related artifacts representative of the different societies living along the length of the Silk Road, to demonstrate just how widespread and varied the cultures along the routes were.
But back to the camels. Each has its own personality and my family and I will be happy to help you get to know them. You may hear stories from my 10-year old son, Pecos, about why Irenie is his favorite. Teenaged daughters Vanessa and Delany will likely tell you they prefer Ibrahim, our beautiful white camel, and that this is actually Ibrahim's second trip to Houston. A few years ago, he traveled into an underground service entry, up steps, through corridors and onto a freight elevator before greeting travel convention goers outside the doors of a hotel ballroom!
Maybe those Silk Road camel men didn't have it so tough after all.
Our family looks forward to meeting you when our humble caravan rolls into Houston. In the meantime, come visit us online, on Facebook, our blog, and our web site.