Today's guest blogger is Mike Marvins, a fourth generation portrait photographer. His photographs, featuring the wilderness of Big Bend National Park in Texas, are currently on display on the mezzanine of HMNS. In this post, Mike discusses his experiences at Big Bend National Park.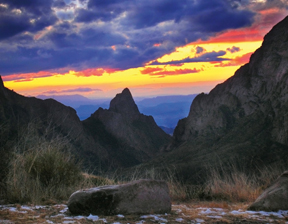 Texas' Big Bend region has been a part of my life for over 40 years. As a new Scoutmaster, just off a four year stint as an officer in the Army, I was determined that my troop in Houston get a taste of high adventure backpacking. That first trip was a real learning experience for the boys and me. With July temperatures at over one hundred degrees on the Rio Grande we began the week with a downpour the first night. A real desert storm – and we had no tents. Even with all the hardships we were all entranced with the vastness and grandeur of Big Bend. That was the first of many, many trips — both with the Scouts and then with camping buddies and family.
Being a fourth generation portrait photographer,  the two months leading up to Christmas were filled with eighteen hour workdays. Then on December 26 each year, I would go off to Big Bend for some mind-clearing solitude. That's the one thing most people have told me they treasure most about the area.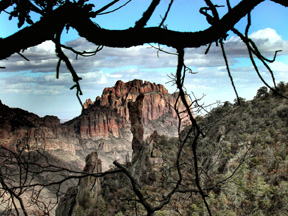 My photography in Big Bend started with snapshots of the people who were sharing the experience with us. Then, came many years of pictures of things that just caught my attention. These were just personal mementos, tucked away in albums. They were not made with any publication, articles or exhibits in mind. That let me be creative and make pictures that truly came from the heart. They reflect both the incredible natural history of Big Bend and its human history as well.
Several years ago, friends and clients urged me to share my pictures with "the world." That resulted in the book "Texas' Big Bend; A Photographic Adventure From the Pecos To The Rio Grande," published by Bright Sky Press in 2009. It's the first book that encompasses the (850,000 acre) Big Bend National Park, Big Bend Ranch State Park, historic towns and ranches.  The exhibit, now on display at the Houston Museum of Natural Science,  is based on photographs from the book and prints that have been acquired by major art museums.