Serves 1/20th of a person.
You must become pubis-savvy to understand Archaeopteryx. The pubic bone commands the guts – and gut evolution was huge in bird origins.
1) Check out an allosaur, a typical big meat-eating dinosaur. Note that the pubic bone points down. This position limits the size of the guts because the intestines must stop in front of the pubis.
2) Check out a chicken, a typical modern bird. The pubis has been pulled way back so it points backwards. Now the guts can expand all the way to the rear of the bird.*
3) Now examine Archaeopteryx. If it were a typical bird with a big gut, the pubis should point backward. It doesn't. It points down, like in an allosaur.
4) So……Archaeopteryx was a gut-less wonder, compared to a modern bird. The space for the intestines was still small. It couldn't digest food as fast as a modern bird can and it couldn't digest tough food items.
5) Modern-style bird guts didn't evolve until the Cretaceous.
* that's why we can stuff a bird with so much stuffing on Thanksgiving.
How To Get Your T.rex to Perch on Your Finger
Evolution of the Back-Grabber Toe in Birds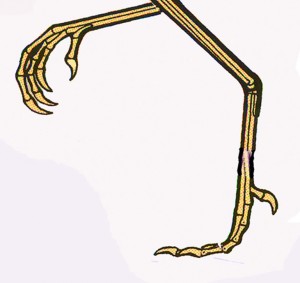 Here is our Archaeopteryx hind foot. Note that it's got a "back-grabber toe," an inner toe that points inwards and a little backwards.
Modern birds usually have an even bigger back-grabber toe that points further backwards. This inner toe lets the bird grab a branch or a finger and hold on.
(The toe is equivalent to our human big toe).
The other three toes in Archaeopteryx point forward and attach to three long ankle bones that are bound together tightly by ligaments. The inner toe has just a stub of an ankle bone.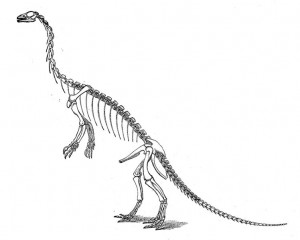 Anchisaurus
Look at a primitive dinosaur, like Anchisaurus. No back-grabber. Instead the inner toe is thick and long and points forward. The toes attach to four long ankle bones that are loose and can spread.
Here's the key step:
Meat-eating dinosaurs evolved an inner toe that pointed inwards – like a bird's. Its ankle bone is a stub – just like a bird's.
The three main toes have ankle bones tightly bound together – like birds'.
Raptor-type dinosaurs were even more bird-like, with thin, long ankle bones.
Archaeopteryx evolved from a raptor-type dinosaur by enlargement of the inner toe.