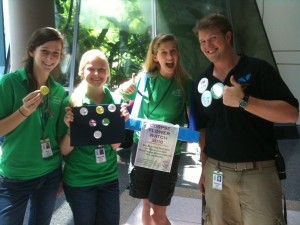 You MAY have heard of the Museum's newest star – the corpse flower Lois. Hundreds of people line up each day, around the clock, waiting to see Lois up close. Even more people are camped out online, watching the HMNS webcam, hoping to see even the tiniest change in ruffle position. Twitter is buzzing with people who are having lunch brought in so they can keep an eye on the webcam, setting alarms to wake up and check on her overnight and truly – we are all on the edge of our seats awaiting the stench. One of our Moran Ecoteen volunteers (and former Xplorations Summer Camper) even wrote an Ode to Lois which she performed this morning for the flower. This is the real deal folks – people are serenading plants – and you saw it on blog.hmns.org first (live performance video coming soon!).
I must admit that I personally have said the words "I'm too excited to sleep" this week as I watch the #corpseflower feed on twitter. Amorphophallus titanum seems to come up in conversation regularly and someone witnessed a woman waving cash at the boxes of Lois t-shirts as they were being unpacked today! SO – what would a CRAZE be without some commemorative items! You've no doubt seen the cupcakes crafted by our very own Nicole  Temple and today the HMNS Gift Shop has released the Lois t-shirts but what we know you're really going to be jazzed about are the collectible buttons!!
Starting today, July 16, we will have buttons available for sale in two sizes – small for $2 each and large for $5… and to make the deal EVEN BETTER, all of the money benefits that Houston Museum of Natural Science's Capital Campaign (read: new wing filled with more HMNS objects to love!!).  You know you want to collect them all– these puppies are limited in quantities, cash only and we are cranking them out as quickly as we can so come and get them while they last!
You may have noticed the special pins celebrating our very own horticulturist Zac— you can choose "Team Zac" or "Team Lois" buttons. Sources say Zac has been seen wearing a "Team Lois" button… which will you choose?!