Ed Note: Many fossils from the periods discussed and the Solnhofen locality are currently on display in Archaeopteryx: Icon of Evolution. Join a live online discussion about the latest research into the title fossil with paleontologist Pete Larson on June 17.
Intelligent Design – For Jurassic Fish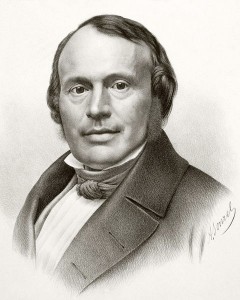 Louis Agassiz
Right now,  in the 21st Century, the "Intelligent Design" is the latest development in arguments about Creation versus Evolution. Bur it's not a new idea. The Father of Fossil Fish Science, Louis Agassiz, used Intelligent Design to explain Solnhofen sharks and bony fish in the 1840's and 1850's.
Here's how Agassiz laid out the argument:
Expert Engineering in Fins and Jaws
Fish today have bodies that fit their environment. Bottom-living sharks and rays have flat bodies. Fins and teeth are "designed" to crush clams and crustaceans these predators find hiding in the sea bottom. In the open sea water, fast-swimming mackerel have thin scales, plump, streamlined bodies, and tall, narrow tail fins that seem 'designed' to catch small fish in fast attacks.
Jurassic Fish Were Built For their World
Each and every slice of geological time had fish shaped just right to fit their ancient habitats. The Solnhofen Gyrodus had the deep body ideal for hovering in quiet water near a reef. It carried incredibly strong teeth, dental tools that let the fish bite off chunks of coral and snatch clams embedded in the reef.
In Every Period, Fish Habitats Were Balanced
Each extinct habitat was balanced by precisely the right sort of predators and prey. Gyrodus pruned the reef, eating away excess algae, crabs and coral growth. That way the reef stayed healthy and no species became over-abundant. The aggressive reef predator Aspidorhynchus hunted the Gyrodus and kept its numbers down to just the right levels – not too rare, not too common. The big, fast teleost predators, like Thrissops, did their job in keeping Aspidorhynchus numbers in check."
According to Jurassic Intelligent Design, the entire Solnhofen reef ecosystem was crafted by an unseen Creative mind that planned every detail.
Serial Creation, Agassiz's view of Creation was not static. The entire World Ecosystem was revolutionized by change every million years or so. At the end of the Jurassic, many fish species went extinct. New species appeared. More extinctions and more waves of new species appeared at the end of the Cretaceous. More and more extinction-replacements occurred all through the next  Period, the Tertiary.
These revolutions were necessary because the World Climate changed fundamentally. Jurassic seas were tropical and Jurassic lands were as steamy as hot-houses. But the climate got cooler in later Periods. The fish that were perfectly designed for the Jurassic were not optimized for the Tertiary Period. Each new wave of extinction and replacement was required to maintain the exquisite balance in reef and coral-biter, coral-biters and Apex Predators.
The Theory of Natural Selection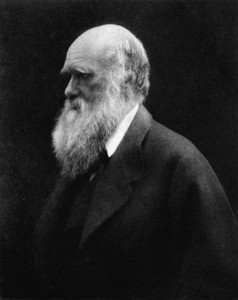 Charles Darwin
Darwin and the Perfect Fish
Charles Darwin too was worried about perfectly designed fish. He recognized the extraordinary adaptations in predators that let them catch prey and the delicate balance among species in most habitats. But Darwin argued that natural processes could make ecosystems perfect, or nearly so. His theory had only a few simple steps:
All jaws and fins and bodies vary in all species
When a naturalist studied hundreds of specimens of Gyrodus or a living species, jaws and teeth and fins varied within the the species. Studies of domestic animals – Darwin liked pigeons – proved that much of the variation was genetic. Breed a tall pigeon female with a tall male and the chicks were, on average, tall. Breed a bigger than average goldfish with another big goldfish, and their young will be bigger than average.
Variations Pop Up All the Time
In 1859, when he wrote "The Origin of Species", Darwin didn't know where variations came from. The understanding of genes wouldn't come until after 1900. But Darwin did know that new genetic variations arose in every population.
Nature is Cruel and Most Individuals Die Young
A big reef fish might spawn a hundred youngsters each summer. Few would live beyond six months. Only 1% or less would survive to breed. That's the basic calculus of ecosystems.
Nature "Selects" the Genetically Fortunate
If a fish or wild pigeon hatches out with just the right genes, it gets an advantage. It can live longer, grow faster, and reproduce earlier than its relatives. Generation after generation, the lucky genes accumulate. In a thousand generations, a fish or bird species can be transformed.
Natural Selection Works All the Time to Keep Systems Nearly Perfect
Nature keeps selecting the lucky genes and keeps most of the species ideally "designed" most of the time.  That's how Jurassic predators were kept fine-tuned to their prey. When climate changed abruptly, old species died out and new ones evolved.