There has been much discussion and confusion about global climate change. With an upcoming lecture and planetarium show on the topic, you have an opportunity to discover the facts and whether or not you should be concerned about the climate. This month we invite you to learn more about ice and glaciers, and the effect these have on our planet.
Ice Planet: Earth
On Wednesday, May 26 at 6:30 p.m. Dr. Mark Fahnstock will discuss the changes of our planet's ice cover, specifically how it has changed over the past year, decade, and century. Dr. Fahnstock, who studies the glaciers of Greenland and the Antarctic, explains his research to the public. Don't miss his lecture and the chance to learn more about global warming and our planet's weather.
Ice Worlds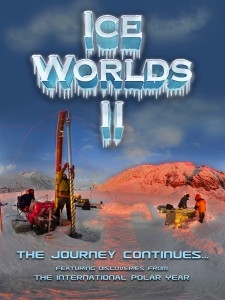 If you are interested in global climate change, the Poles are the place to watch because changes there can have a dramatic effect on the whole planet. When ice turns to water, it changes from a reflector to an absorber of solar radiation. When water turns to water vapor, it becomes a powerful greenhouse gas. When water vapor forms clouds, it becomes a reflector once again.
In 2007-2009, countries around the world celebrated the International Polar Year with expanded funding for research on Earth's changing poles. On Memorial Day weekend, the Burke Baker Planetarium opens a new Ice Worlds show featuring what has been learned about the Arctic and Antarctic in the past two years.
Understanding the role of ice on our world is the first step in understanding how water amplifies any climate change. Ice Worlds is a beautiful show, including ice imagery from Earth's poles and from the different ice-covered worlds in our solar system.