Recently we received the question on our blog, "How far down do you have to dig to get to the Cretaceous-Tertiary boundary?" A similar question that I get in anthropology and paleontology is "How far down do you dig to find a T. rex…..or a Dimetrodon….or an Australopithecus?"
We usually don't dig down. We dig SIDEWAYS!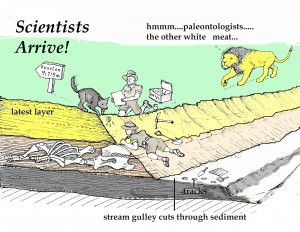 Fossils are not that common. You could rent a back-hoe and dig at random in North Texas for a month and not find anything. You need to find those few, special layers that have bones or shells.
So….the best way is to use Nature's Bulldozer.
Here's how it works. Nature cuts into rock layers using rivers and streams. River banks and the sides of arroyos show us cross-sections of the rock. We use these natural cuts to search for the layers rich in fossils.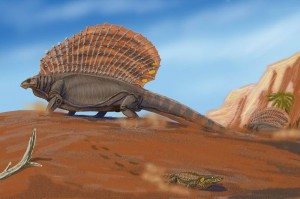 Edaphosaurus pogonias
My HMNS crew has walked, hunched over, for days at a time, scrutinizing the banks of gullies in North Texas, without seeing a thing worth digging. But we must have patience. In the Permian Red Beds, for instance, we do find new sites on average every two days. Last month, we found four spots that had bones of the fin-back Edaphosaurus, one of the earliest plant-eaters that ever evolved.
We didn't dig those four spots because the bones were few and fragmentary.
But we found a fifth spot in the bank of a gully that had a whole vertebral column of the fin-back Dimetrodon, the top predator of the time. Here we dug in, sideways, and recovered a large part of the skeleton, including hips and shoulder.
To get the Cretaceous–Tertiary transition fossils, we go to Raton, New Mexico. Here steep river banks expose the sediments from 65 million years ago, when the dinosaurs went extinct. We can dig in sideways and excavate thin zones of black clay that preserve pollen and spores from the plants that lived just before and just after the great dino extinction.
To find fossil hominids in Africa, first we'd search aerial photos, looking for cuts made by rivers and streams into sediments laid down about 2 million years ago.
Think "Sideways."