Today's guest blogger is Richard Hatch, a longtime Houston magician and one of many magicians performing live in our Magic! exhibition. His post today is about the history of one of the artifacts on display and the journey it took to reach HMNS.
A few weeks before the Magic! Exhibit opened, I sent a link to the website page with Guest Curator Scott Cervine's "top" artifacts to Houston's magic community as a preview of things to come. Within an hour of sending it out, I got an email from Mark Holstein, a corporate lawyer and longtime magician who had recently relocated to Houston from Chicago reporting that he "nearly fell out of his chair" upon seeing one of the artifacts.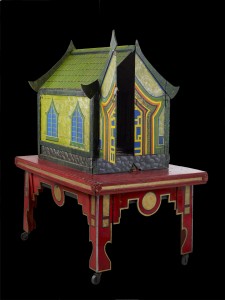 It was "Dorny's Doll House", a beautifully painted prop made and decorated by the popular Chicago based performer, Werner Dornfeld (Oct. 7, 1892 – Sept. 5, 1982), known popularly and professionally simply as "Dorny." Dorny had gained show business success shortly after the First World War touring with a talking comedy magic act called "Painless Magic" as part of the Elsie Janis troupe. He then settled down in his hometown of Chicago and pioneered the field of magical master of ceremonies.
Howard Thurston (July 20, 1869 – April 13, 1936), America's leading theatrical performer of magic at the time, asked Dorny to head up one of several franchise units touring under his sponsorship. Dorny declined, preferring one night stands within easy commuting distance of Chicago to trouping tons of equipment and a train car of assistants from city to city.
After the Second World War, Dorny did build an illusion show that "packed flat and played big" which allowed him to offer a full evening's entertainment within commuting distance of his home. He built and decorated all the props himself, including the Doll House illusion, which breaks down for packing flat. In the 1970's Chicago magician Bill Smetak gave Dorny a lift from Chicago to the annual magicians' "Get Together" in Colon, Michigan, the self-styled "Magic Capitol of the World" thanks to the presence there of the Abbott's Magic Manufacturing Company. This was the beginning of a very close friendship between the two magicians, whose shared love of the art of magic overcame their difference in age. For many years Smetak stage managed the Get-Together Shows, often with Dorny as MC. When Dorny decided to throw out his homemade props, which he considered worthless once he no longer used them, Smetak convinced Dorny to let him take them instead. In the early 1980's Dorny moved into a nursing home and Smetak asked a young friend of his, law student and illusionist Mark Holstein, to put on a show at Dorny's nursing home. They decided to surprise the elderly magician, who by then had been named the "Dean" of the Society of American Magicians, by including his Doll House in the show. Holstein recalls that when the prop was rolled into view, Dorny's stentorian voice boomed out "Bill, that's my Doll House!" That was the last time the prop was used. Shortly thereafter Dorny passed away and Smetak donated the Doll's House and several other props and ephemera from Dorny to Bob Lund's American Museum of Magic, which has lent the Doll's House to HMNS for MAGIC!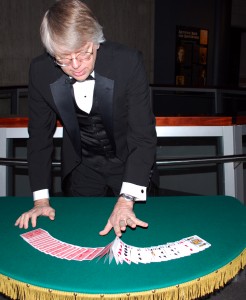 Richard Hatch performs in Magic! at HMNS
Bill Smetak passed away in 2002 at age 75, but some years prior to that Mark Holstein, the young law student whom Smetak befriended and mentored, had performed one of his best tricks by transforming Smetak's daughter, psychologist Sue Smetak, into his wife. When they moved to Houston a year ago, they could not have imagined that this artifact from their past would follow them here. Mark carries on his father-in-law's legacy by stage managing the annual "Get-Together" shows in Colon each August.
Several visitors to the Museum exhibit have noted upon viewing this prop the prominent notation "FRONT" on the base, a testament to the practical instincts of its maker and original performer, Dorny. But the prop is also a testament to the close friendship of Dorny and Bill Smetak, who rescued it from certain destruction, and the friendship of Smetak and Bob Lund who cherished preserving and displaying such artifacts in his unique American Museum of Magic in Marshall, Michigan (Bob passed in 1995).
Don't miss your chance to see Magic!, open now at HMNS.