How much do you know about magic? It's time to see through the illusion! The Magic! exhibit is now open at HMNS. Throughout the run of the exhibit, check back here for exclusive videos and descriptions of the unique items on display from curator Scott Cervine.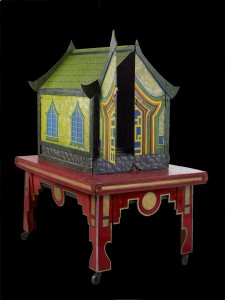 Doll's House Illusion
This classic illusion was invented by British music hall performer Fred Culpitt (1877 – 1944) circa 1927 and quickly became popular worldwide due to its practicality and deceptiveness and remains popular to the present day.
The doll house is opened and shown to be empty (often removing the toy furniture in the process of displaying the house). However, when the door is closed, the roof immediately pops open in the center and a full-sized (generally adult) female doll too large to have been hidden within the empty doll house steps out.
The Crystal Clock Dial

This classic stage effect dates to the 19th century and remained popular into the early 20th century, but is seldom seen today.
In this spiritualistic feat, a number from one to twelve merely thought of by an audience member is divined by the spirits when the freely spinning clock hand mysteriously slows and stops on the spectator's number.