So a priest and a scientist walk into a bar…for centuries, science and religion have squared off. Are they mutually exclusive, or can they coexist? Can a higher being be incorporated into scientific principles, or can science be used to explain the core beliefs of faith? Today's guest post from Amy, our director of adult education, discusses your chance to answer these questions, as HMNS brings a priest and scientist together for a friendly discussion. Learn more about the two men and the issues at hand, and don't miss your chance to hear both Father Coyne and Dr. Ayala speak at HMNS this upcoming Tuesday, April 27 at 6:30 p.m.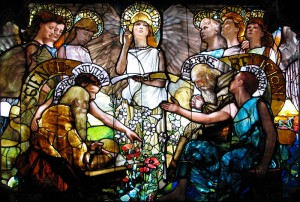 Science and Religion are portrayed to be in
harmony in the Tiffany window Education (1890).
In a world changing every day by science, many grapple with the debate of Science vs. Religion. Some think the two are not compatible, while others think the contrary. What kinds of questions belong to the discipline of science and what questions do not?  How can a scientist justify faith while insisting on scientific, empirical rigor in other matters?  Is such justification necessary? Questions like these will be addressed in a spirited discussion by Drs. Coyne and Ayala at HMNS.
Father Coyne first came to HMNS in 2003 to speak with Dr. Steven Weinberg in a program entitled The Presence of God in the Universe. Coyne returned in 2009 as part of the Darwin2009 Houston Lecture Series celebrating the 200th birthday of Charles Darwin and the 150th anniversary of the publication of On The Origin of the Species.
Dr. George V. Coyne, S.J. served as Director of the Vatican Observatory for 28 years. Father Coyne founded and hosted the Divine Action series of conferences to bring together scientists and theologians from around the world. He retired as Director in August 2006 but still serves on the research staff and is President of the Vatican Observatory Foundation, a development arm of the Observatory.
The Vatican Observatory, one of the oldest astronomical observatories in the world (tracing its origins to Pope Gregory's reform of the calendar in 1582) has been headquartered in the papal summer home of Castel Gandolfo since 1935, but it opened a branch in Tucson in the mid 1980s to take advantage of the area's world-renowned astronomical facilities. In 1993, it inaugurated the Vatican Advanced Technology Telescope on Mt. Graham, Arizona.
Dr. Francisco Ayala was also part of the popular lecture series hosted at the Houston Museum of Natural Science.  You can read Dr. Ayala' previous blog post here. Dr. Ayala is an evolutionary geneticist and molecular biologist who has vigorously opposed the entanglement of science and religion while also calling for mutual respect between the two. He is a University Professor of Biological Sciences, professor of philosophy, and professor of logic and the philosophy of science at the University of California at Irvine. He specializes in evolutionary genetics and uses DNA to track the path and flow of evolution. This March Ayala was awarded the 2010 Templeton Prize which honors a living person who has made an exceptional contribution to affirming life's spiritual dimension, whether through insight, discovery, or practical works.
The mission of the museum is to "enhance in individuals the knowledge and delight in natural science and related subjects." This lecture is a unique opportunity for our museum members, students and members of the community to hear two world-renown scientists address questions about Science and Religion to enhance their "delight in science" regardless of their religious beliefs.
The HMNS Distinguished Lecture entitled Science and Religion presented by Drs. Coyne and Ayala on April 27 is sponsored by KUHF 88.7 FM and the Center for Faith and Culture at the University of St. Thomas and is open to the public.  For ticket information click here.