We get so many great questions through our blog, and every now and then we can turn those responses into a blog post. One our readers favorite posts is "What would YOU ask a paleontologist?"
Last week we got this question from kght2:
"Do all birds come from a specific raptor, or do they come from different species of raptor that are cousins and not ancestors. I wonder this because while all birds are similar, they don't seem to be any more similar than different raptors I have seen, and while this isn't great information, I have heard of many raptors likely having some from for feathers. Primarily i wonder if the consensus is that all birds came from a single species, or that they came from a family of species instead, and this answer would also have implications that people should know for any species or family of species?"
Dr. Bakker, curator of paleontology here at the museum wrote this in response:
Another darn good question.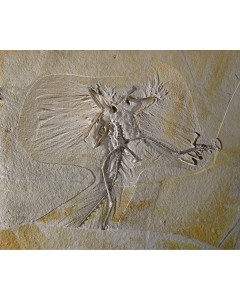 Archaeopteryx was the first bird, back in the Late Jurassic. It's got the complicated arrangement of feathers on its arm to fly like a pheasant today does. All other birds evolved from Archaeopteryx or something very like it
Deinonychus (read my blog about Deinonychus) is a famous raptor-dinosaurs who look very close in their bones to Archaeopteryx. The tiny Microraptor from China is closer still.  Thanks to the dinosaur specimens from Laoning, China, we know that all the raptor-type dinosaurs had feathers. (T. rex had feathers too – the tyrannosaur clan were clothed in a full pelt of fine kiwi-style plumage.) But Deinonychus and all the Laoning feathered dinosaurs are from the Early Cretaceous – that's too late to be an Archaeopteryx ancestor.
We need a Jurassic raptor to be our Archaeopteryx ancestor.
We now have a few specimens from the end of the Jurassic. These are advanced raptor-like dinosaurs with long arms built like Archaeopteryx.
So….we're getting close to discovering the one, single raptor-dinosaur who evolved into the first bird. It had to be in the Mid or Late Jurassic.
If you have any questions you would like to ask any of our bloggers or curators, send us an email at blogadmin@hmns.org.
Interested in learning more about dino-birds? Make sure to check out our next exhibition, Archaeopteryx: Icon of Evolution, opening April 23, 2010.