"Taking Flight" is a temporary art exhibition in our butterfly center, displaying the artwork of 6th – 12th grade students from three of the seven YES Prep Public School campuses. Inspired by science, or simply a love of nature, they are all wonderful depictions of different butterflies and insects – and a beautiful illustration of the intersection of science and art.
Today we highlight the work of Bianca Olvera. She gave us a little insight into her work and the butterfly art in the q&a below. Check out our first artist profile here.

Break Free
Bianca Olvera, 12th grade
Artist Statement: "It's hard to go through life without making mistakes. However, even when you make them, no matter how bad they may seem, you always have the chance at redemption and forgiveness. This is something my sister taught me."
1. What was your inspiration for creating this piece?
What inspired me to create this piece was my sister. I love her with all my heart. I look up to her a lot. She's always trying to do what's best for me by teaching me about life, love and being myself.
2. Why did you choose butterflies as your theme? What can you tell us about them?
I wanted to dedicate this piece for my sister, she loves butterflies. I asked her what they meant to her and she told me that butterflies represent new life – that they are not just these insects that pollinate our flowers…To her, butterflies symbolize a new start with God. I'm really proud of her for knowing who she is and what she's all about. She makes me want to be head strong just like her.

3. Your piece has a unique three-dimensional element. Can you tell us how you created that, and why?
Mrs. Higuera, the AP Art teacher, was showing me this new technique cutting paper with X-Acto knives. I fell in love with it and I decided it would be a good idea to cut the butterflies out of paper. I wanted something different compared to what everyone else was doing. I cut each and every butterfly individually. It took a long time, but it was worth it. I liked the way they came out.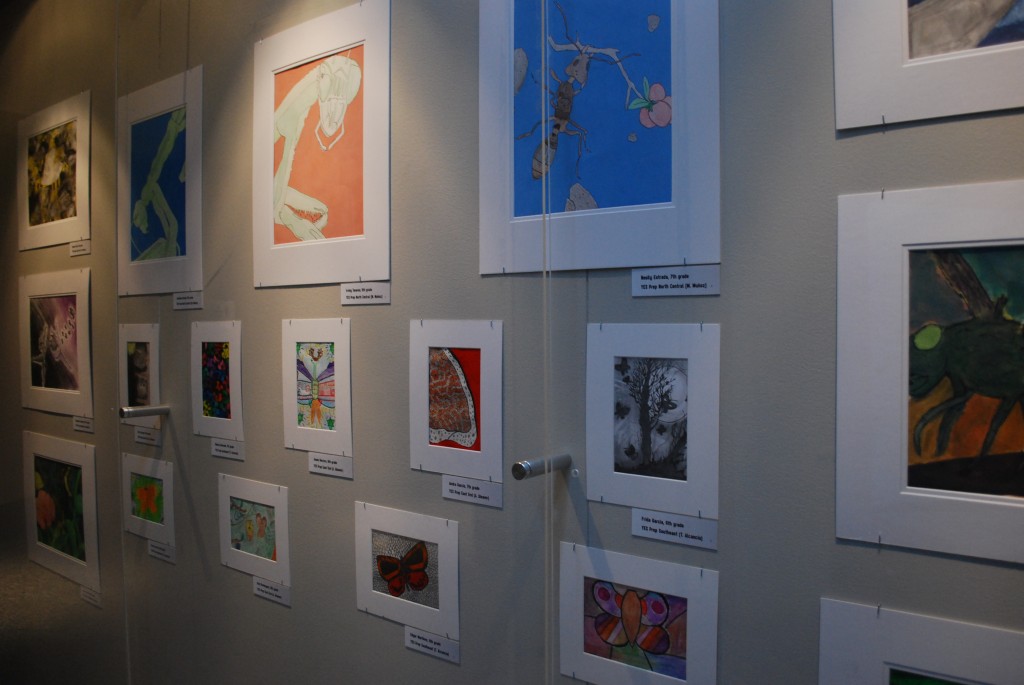 4. What role should art play in science? Is there a role for science in art? Please explain.
I think art should always play a role in science. It's there to show you what's going on through photographs, drawings, sketches, and gives you a better understanding and view of what you're looking at. Plus, I think it's pretty to look at.
5. Do you think you'll use scientific concepts for your art in the future?
I'm not really sure, I'm just going to have to wait and see what the future has in stored for me and my love for art. It would be nice to use scientific concepts, it sounds very interesting.
Don't miss Bianca's "Break Free" – or any of the other beautiful works of art now on display in "Taking Flight," on the lower level of the Cockrell Butterfly Center. The exhibition will be available through March 31.