How much do you know about magic? It's time to see through the illusion! The Magic! exhibit opens tomorrow, Feb. 26, 2010 at HMNS. Throughout the run of the exhibit, check back here for exclusive videos and descriptions of the unique items on display from curator Scott Cervine.
Although Houdini performed large scale illusions, such as making an adult elephant vanish in the Hippodrome Theater in New York, his masterful showmanship also allowed him to make a signature performance from a handful of needles and several yards of thread.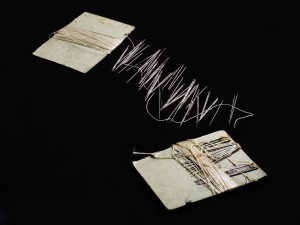 Houdini Needles and Thread
On display in Magic! starting Feb. 26
Houdini would swallow the needles, then the thread. His mouth would be inspected by a doctor to be shown free of guile, and then he would apparently regurgitate the thread, which suddenly appeared between his lips. In pulling the thread from his mouth, the needles were now seen to be threaded at intervals on the thread.
Although not original with Houdini, prior performers had done the feat with a few dozen needles and a few feet of thread. Houdini used enough needles and thread to fill the stage and created as great an impression with these simple, inexpensive items as did with larger props from his workshop in which he invested thousands of dollars.