The wait is over! Magic is finally open at HMNS. Come explore an array of artifacts connected with legendary performers of the past and present. Among the many intriguing artifacts featured are torches for fire eating; magic lanterns and automatons; Harry Houdini's trademark milk can and water escape trunk; Harry Blackstone's "Zig Zag Girl" prop; Mike Caveney's linking coat hangers; and items from the acts of Doug Henning, Penn & Teller, and other superstars of magic.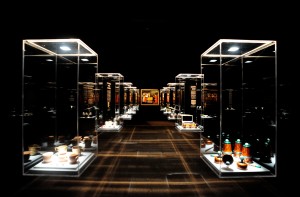 The exhibit cases…they float!
HMNS presents Magic!

photo credit: Deborah Smail
"As fascinating as the artifacts are by themselves, we became convinced that they were only "complete" when they were accompanied by performances—in our case both live and taped," said Joel Bartsch, the museum's president. "It is only when these artifacts are animated and brought to life by talented magicians that the dialogue loop between the artifact and the museum visitor is completed. The exhibit showcases the wonders of magic without revealing the secrets that make it fun."
The exhibition will also feature film and video clips of famous magicians, as well as guest illusionists performing live. (Live performances take place between 11 a.m. and 3 p.m., Wednesday – Sunday)
Check out the video below for a preview of the exhibit – Ilona Carson from Channel 13 interviews our magician Richard Hatch, as well as magician/dancers Michael and Jessica from the Rhythm of Magic.
Can't see the video? Click here to watch it.
Looking for more? Check out these reviews from the Houston Chronicle and Mike McGuff as well as our magic videos on Vimeo.