"Taking Flight" is a temporary art exhibition in our butterfly center, displaying the artwork of 6th – 12th grade students from three of the seven YES Prep Public School campuses. Inspired by science, or simply a love of nature, they are all wonderful depictions of different butterflies and insects – and a beautiful illustration of the intersection of science and art.
Today we highlight the work of Alyssa Valdez. She gave us a little insight into her work and the carnivorous caterpillar in the q&a below.
The Predator
Alyssa Valdez, 11th grade
Artist Statement: "The carnivorous caterpillar caught my eye because it's unusual and something you don't see every day. This painting portrays two perspectives on the carnivorous caterpillar. The first is a close-up of a carnivorous caterpillar as he is preparing to eat his prey. The second is of his attack on a fruit fly."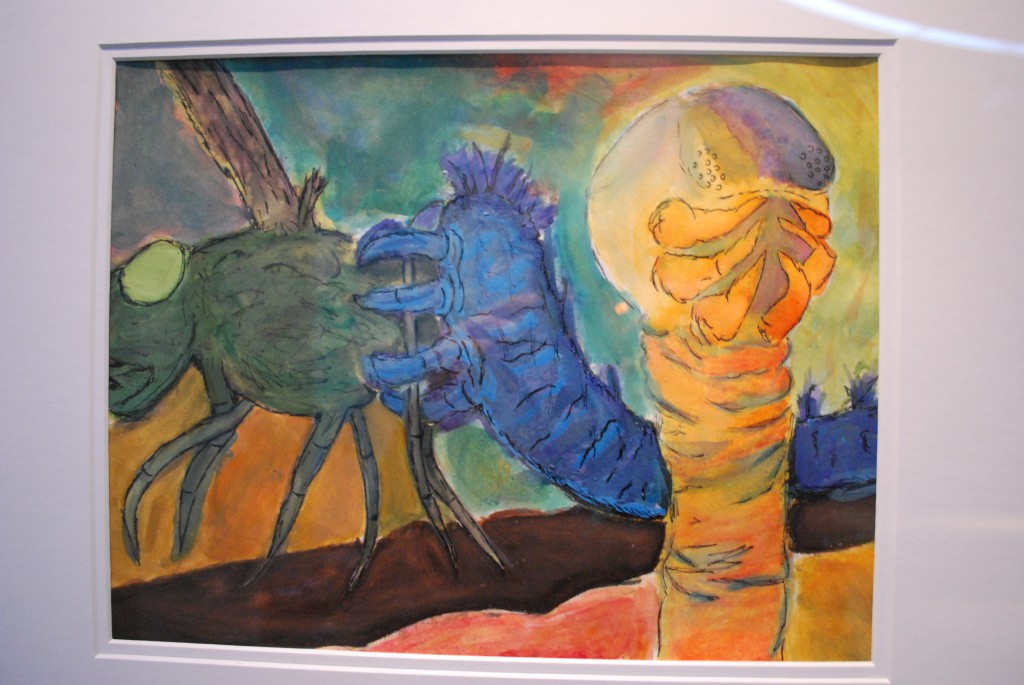 1. What was your inspiration for creating this piece? Why did you choose to portray carnivorous caterpillars?
My goal was to portray an insect that was both disgusting and unusual…the problem was I didn't know what I was going to choose.  One day my boyfriend brought up carnivorous caterpillars in a conversation, and I knew I wanted to portray [them]. It was something out of the ordinary. Plus, these caterpillars are so small, but their name makes them sound so scary and intimidating.
2. The subject is a little gruesome – but you rendered it with very cheerful colors. Why?
I wanted to zoom in on the detailed profile of the insect, as if someone was taking notes and sketching to capture the caterpillar in action. I was also experimenting with colors with this piece. I wanted to exaggerate the action, and I wanted it to be eye catching. I had the idea, "what if something so gruesome could look so beautiful?" I hope it makes people stop and take a second look.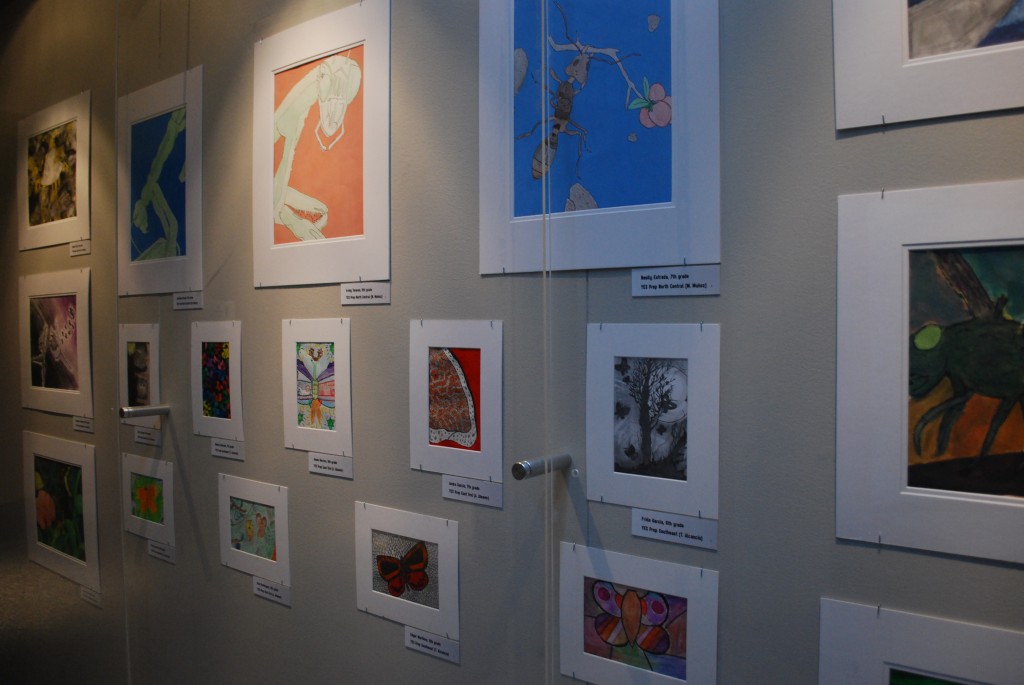 3. What role should art play in science?
I think the goal of art in science is to make observations and capture aesthetics. I find chicken scratch short notes and rough sketching to be artistic, so it only seems appropriate to mesh the two together.
4. Do you think you'll use scientific concepts for your art in the future?
Gruesome is my best friend. In science there are many things that people might find morbid or gruesome, but I find fascinating.  For example, I have recently learned about and become interested in forensic sciences and how insects have been used to help solve murder crimes and mysteries. The world isn't always pretty rainbows and cute kittens. I like to magnify the things people don't always see, even some of the things that could make people's stomachs turn.
Don't miss Alyssa's "The Predator" – or any of the other beautiful works of art now on display in "Taking Flight," on the lower level of the Cockrell Butterfly Center. The exhibition will be available through March 31.