I absolutely love orchids! I mean who doesn't, really? They are my very favorite flower in the whole world. I can literally stare at them for hours and not get tired of them. I love to photograph them; I even had them in my wedding! I love their colors, their shapes, there is really no flower quite like the orchid.
Well, if you love these flowers as I do, I've thought of another reason for you to love insects! We would not have the amazing shapes, the striking colors, or the unique fragrances from orchids if it weren't from our amazing little friends!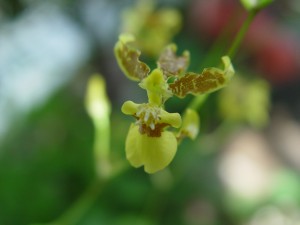 Orchids are an ancient flower – appearing some 80 million years ago, during the time of the dinosaurs – much older than scientists first believed. They flourished, as many organisms did, after the big extinction and began to figure out how to best survive in this new world. They can grow on every continent except for Antarctica and in almost every type of habitat. They can grow as epiphytes, attached to trees or shrubs, lithophytes, attached to rocks, or they can be terrestrial like most other flowers. They also figured out, because plants are very smart you know, that cross pollination, as opposed to self pollination, is the best way to survive. What is the best way to cross pollinate? With insects of course. So began an intricate process of co-evolution between these amazing flowers and their insect counter-parts.
Co-evolution can be defined simply as the change of a biological object over time that is triggered by the change of a related object. So, as the insects changed, so did the orchids which were dependent upon them. This has led to an incredible amount of diversity in the 25-30,000 species of orchids that exist today. Charles Darwin studied orchids and their relationship with insects; he developed this theory of co-evolution based on his findings. He introduced the theory of plant and insect interactions in his book, On the Origin of Species. Later, he published Fertilisation of Orchids, which explained in detail the complex relationships between these flowers and the insects that pollinate them and how this led to their co-evolution.
Today, this can be seen more than ever with some extremely unique orchids and their very interesting, and sometimes weird, ways of attracting insects. One of the most compelling pieces of evidence of this co-evolution is Angraecum sesquipedale or, Darwin's Orchid in Madagascar. Darwin noticed that this orchid had an extremely long spur, so long that only an insect with a very long proboscis could reach the nectar inside. He actually predicted that there was an undiscovered moth out there with a foot-long proboscis that could pollinate this orchid. Well, he was right, and now we have Xanthopan morgani or the Morgan's sphinx moth. This incredible moth was not discovered until 1903, but proved Darwin's theory and was originally named Xanthopan morgani praedicta in honor of his prediction. The moth has an unbelievably long proboscis which can reach down into the flower to retrieve the precious nectar. In doing so, the moth rubs its head against the pollen producing organ of the plant and transfers the pollen to the next flower it drinks from.
Many other orchids use specific fragrances to lure insects. Some use sweet fragrances to attract certain bees and wasps, and others, putrid smells to attract flies. These happy insects are rewarded for their pollination with yummy nectar. Others use striking colors that flying insects can't resist. Still others, about 1/3 of all orchids, produce no nectar. These have come up with some pretty tricky methods of attracting insects. These are some of the most specialized orchids of all. Some mimic the smell of food. Flying insects approach the flower and crawl all over it looking for the nectar. It is not until they are covered in pollen that they give up and move on to the next one, transferring the pollen in their search for food.
Even more deceiving are the orchids that use sex pheremones to attract unsuspecting pollinators. These orchids are amazing. They actually mimic the female bee or wasp visually, often using the same colors and tufts of hair. They give off a chemical that smells identical to the pheremone that the female insect would give off. The poor males climb on the flower, actually try to mate with it (sometimes leaving behind sperm) and move on to the next, spreading the pollen. What a smart flower! Watch this video to see a great example of this type of orchid.
One last amazing orchid/insect relationship. The lady's slipper orchid is a very unique looking flower. With a pouch-like structure, it resembles a pitcher plant, which is a known insect-eating plant. The pitcher plant uses its pouch to lure in insects which fall in and are digested inside. The slipper orchid, however, has a much more benevolent agenda. The pouch does lure insects, they do fall down inside, but they do not meet their doom there. The pouch is too small for the insect to stretch its wings so they cannot fly out. The only way out is to climb a ladder of hairs on the back. The insect must squeeze past where the pollen is kept to get away. They either leave with the pollen, or leave another plant's pollen there, tricky tricky!
So, you see, if you've never thought of plants as intelligent, you may want to think again. Exquisite, exotic, luxurious, stunning, elegant, whatever term you use to decribe orchids, you can now add intelligent and highly evolved. I hope this gives you a whole new respect for these famous flowers, and the bugs that make them what they are!
If you like orchids and want to learn more about them, don't miss the Houston Orchid Society's upcoming Show and Sale, which will be held at the museum this year. It's free! Saturday and Sunday only, April 17 & 18. For more info, visit our web site.