Although it seems like your friendly HMNS registrar has gone missing, it's truly been a very busy few months for the Collections and Exhibits staff with all the exhibits going up and down and the opening of the new Sugar Land campus.  Condition reporting has always been one of my most favorite registrar's duties but even I've been telling my colleagues "My eyeballs are full!"  There's been literally hundreds of objects to closely examine under magnification, measure, photograph, document, then re-pack, re-house or install.  And all of this handling of objects must be done cautiously, securely and gently, no whipping through just to be done with it.  Looking at that many objects in such a compressed amount of time can kind of cross your eyes and perhaps dims your ardor for 'cool stuff.'
But then along comes another batch of objects or specimens, your interest is revived and you can't wait to examine the next item.  This was precisely my experience when I condition reported (a.k.a. cr'd) some of the Faberge objects currently on exhibit.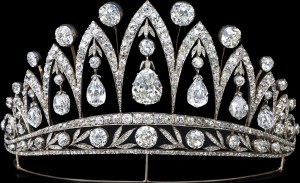 I've posted before about the connections between people and objects, whether it is the one object you always stop to see at a museum or the many you have in your personal collection.  It's fascinating to examine why we're drawn to things.  However, my enamorment with the Faberge lovelies is fairly straight forward.  Many lifetimes ago in college my concentration in political science and history was Russia; or more definitively the USSR (yes, I was an undergrad long, long ago).  The historical era I most enjoyed studying was the late nineteenth century through the 1917 revolution; pretty much the same era when the Faberge workshops thrived.  My registration duties for a natural history collection and the degree on my college diploma have about zip in common so I was thrilled to work with objects for which I already have context.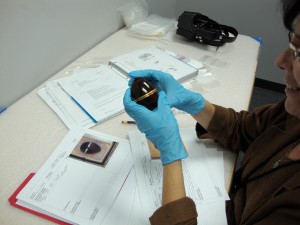 Usually as I examine and report objects I'm very focused and detached.  Ideally a condition report description should be exact and detailed enough that anyone reading it will immediately recognize the object and its current state.  The terms used are also precise.  A gouge, a chip, and a dent are not the same thing.  And proper left center is nowhere near proper right upper corner.  Yet I couldn't help but linger over many of the pieces I examined.  Provenance on many Faberge objects is often quite good but due to the tumultuous events of the Bolshevik revolution the identity of an original owner of some things may be forever lost.  So I found myself wondering about the first owner of my favorite small egg, a beautiful combination of pink-lilac enamel and amethyst stone.  Did the owner receive it as a gift or have it made specially?  How many glamorous evenings has the multi-colored sapphire necklace witnessed?  What piece of music is that engraved on the back of the cigarette case given to a favorite niece from an obviously doting aunt and uncle?  What stories could these things tell of their journeys out of what had so recently been Tsarist Russia?
In addition to my musings, it was hard not to be repeatedly awed by the superior and painstaking artistry of every one of the objects in this exhibit.  A century or more later, the work continues to be stunningly exquisite.  I also enjoyed the challenge of the visual sleuthing needed to find the maker's mark and Faberge hallmark hidden on the pieces.  It was quite a fun game actually.  Besides his mark, each Faberge artist left behind a bit of himself in the object.  For instance, on the necklace with thirty-five multi-colored sapphires (seen left) the maker's mark is on the bottom of every fifth stone's bezel, starting from the tenth stone away from the latch, except that the twenty-seventh stone also has a mark.  The necklace has never been taken apart so is it possible that the twenty-seventh stone was originally meant to be the fifth?  Did the maker change his mind about the order of the stones?  Impossible to know, of course, but fun to speculate!
The objects in this exhibit were so beautifully wrought by the Faberge artists, in such a wide array of minerals and metals, that it makes one's head spin to realize that those materials originally came out of terra firma.
To fully appreciate our Faberge: Imperial Jeweler to the Tsars exhibit I encourage everyone to head upstairs to the Cullen Hall of Gems & Minerals to examine the stellar mineral specimens so that you comprehend the beginnings of the wonderful Faberge objects.  Seeing the beauty of natural minerals will only enhance the enjoyment of objects fashioned by human hands and now imbued with so much history.