Today our guest blogger is Kathy Zoehfeld. She is writes children books on dinosaurs, is very knowledgeable about paleontology, and often accompanies our very own Dr. Bakker and David Temple into the field.
Another 100 Year Anniversary to Celebrate!
November  2009–One Hundredth Anniversary of the Craddock Bone Bed
In November 1909, exactly one hundred years ago, a paleo team from the University of Chicago, led by Professor Samuel Wendell Williston, was exploring the Permian outcrops of Baylor County, Texas, looking for fossils.  That was banner month for the team, because one of Williston's students, Lawrence Baker, discovered a rich pocket of red mudstone absolutely crammed with bones of the big fin-backed monster, Dimetrodon.  This productive quarry soon became known as the "Craddock Bone Bed"– named after the Craddock family, the owners of the land.
In this same spot, in 1917, fossil hunter Charles H. Sternberg and his sons, Levi, Charles M., and George uncovered what was then the world's best Dimetrodon skeleton ever found.  It stands today in the Smithsonian's National Museum of Natural History in Washington D.C.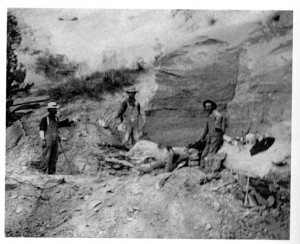 A rare photo of the
Sternberg brothers in the field (in Wyoming).
For the past several years, the HMNS paleo team has been uncovering even more dazzling fossils at this historic site—more than anyone had ever dreamed!  With awls, brushes, dental picks, and steady hands, we've removed about one third of this historic hillside, layer by layer—discovering bones at nearly every level.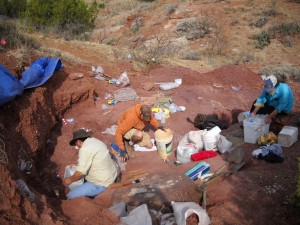 Members of the HMNS paleo team
at the Craddock Bone Bed.
Sternberg and his sons came here to get a big skeleton for the Smithsonian.  We too will soon have a big beautiful Dimetrodon skeleton for the HMNS.  But we'll have so much more!  Unlike the paleontologists who worked here one hundred years ago, we are carefully photographing and mapping the bones in place at every deposition level before we even begin to excavate them and jacket them for transport to the museum.  The data we record and extract will help us understand this fascinating Permian ecosystem and the changes that occurred here over many seasons of drought and plenty.
So, we celebrate one hundred years of fossil hunting history. The HMNS paleo team is thrilled to be part of that history, thanks to the generosity of ranch owners, Bill and Judith Whitley—descendants of the Craddocks who first welcomed Dr. Williston and Charles H. Sternberg.  As we follow in the footsteps of these great explorers, the red and gray sandstones and mudstones under our feet are silent.  But we know that, like books still waiting to be opened, those rocks are full of exciting stories about the Dimetrodon, the poison-spined sharks, the boomerang-headed amphibians, and all the strange creatures that lived and died here over 280 million years ago.  One hundred years from now, paleontologists will still be hunting fossils and unlocking more mysteries on this extraordinary north Texas ranch.