Sometime during 2007, a rancher in the northern Mexican state of Sonora took a visitor to see large bones he had found in an arroyo, or creek bed. The visitor was Guadalupe Sanchez, who works for Mexico's INAH (Instituto Nacional de Antropología e Historia). It turns out that the bones were not the only item that piqued Guadalupe's interest; several stone implements were found in association with them. What makes this discovery so very special and highly interesting is the kind of animal the bones belonged to and the nature of the stone tools.
After two years of hushed up investigations, the scientists recently announced that these bones represent two juvenile gomphotheres and the tools belong to the so-called Clovis tradition, a topic which has been the subject of earlier blog entries . The focus here is not on who came first, Clovis or others (that argument has been settled anyway), but rather on the implications of the find of the Gomphothere bones together with Paleoindian tools like those of the Clovis tradition. That is what is drawing the attention of a lot of North American archaeologists these days. In a nutshell, what we have here is described as "the first documentation that there was some sort of human interaction with gomphotheres in North America."
What in the world is a gomphothere?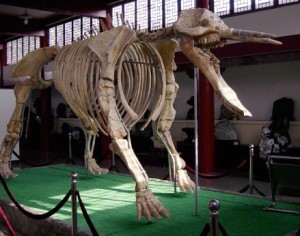 Think of gomphotheres as a type of early elephant, but a strange looking one.
Imagine an elephant-sized animal, with a trunk and tusks pointing straight forward. Then add to that picture a lower jaw with two protruding teeth and voilà, you have a pretty good idea of what our gomphothere looks like.
When were they supposed to have been around?
Considered to have been the most successful and diverse group of Elephants or Proboscideans, these animals thrived during the late Miocene (9 – 8  million years ago) and the Pliocene (5.3 – 1.8 million years ago). The traditional wisdom – up until recently – was that their North American representatives survived the longest in Florida.
Lazarus effect
With dates like these, it would appear then that the jolly pachyderms disappeared about 1.788 million years (give or take a few thousand years) before the earliest humans started walking around in North America. The recent discoveries made at "El fin del Mundo" upended this conventional wisdom. Animals considered long gone by the time of the arrival of the first Americans, now seems to have survived until that point in time. Resurrected from the dead, as one scientist intimated.
The site got its foreboding name because of its very remote location on a ranch in the Rio Sonora watershed. However, being remote is a relative term. Once the news breaks, it is no longer a secret and people will find their way to the site. That is why scientists waited for two years to announce their discovery. This gave them ample time to get a good start on the work that needs to be done.
According to Dr. Vance Holliday, a University of Arizona anthropologist, this is the first time gomphothere fossils were found together with implements made by Clovis people and because of this association, this find has major implications.
Instead of completely disappearing 1.8 million years ago, some Gomphotheres seem to have survived until relatively recently. Our mental image of early man in the Americas encountering and hunting mammoths and mastodon now has to include Gomphotheres as well. In addition to giant hyenas and sabertooth cats, humans also developed a taste for these creatures.
Are all the gomphotheres gone now?
Even though they survived much longer than originally suggested, gompotheres are no longer with us. However, these lumbering leviathans have been immortalized in a number of outdoor statues, as you can see here, here and here.