The Houston Museum of Natural Science was founded in 1909 – meaning that the curators of the Houston Museum of Natural Science have been collecting and preserving natural and cultural treasures for a hundred years now. For this yearlong series, our current curators have chosen one hundred exceptional objects from the Museum's immense storehouse of specimens and artifacts—one for each year of our history. Check back here frequently to learn more about this diverse selection of behind-the-scenes curiosities—we will post the image and description of a new object every few days.
This description is from David Temple, the museum's curator of paleontology. He's chosen a selection of objects that represent the most fascinating fossils in the Museum's collections, that we'll be sharing here – and at 100.hmns.org – throughout the year.
Trilobites, Homotelus bromidensis
(Ordovician, Bromide Formation, Criner Hills, Oklahoma)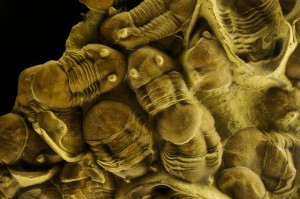 First appearing 530 million years ago during the Cambrian Period, trilobites flourished in shallow seas for 290 million years, placing them among the most successful of early complex life forms. Today, fossilized trilobites are popular with collectors because they are abundant, often well preserved, and occur in a wide variety of forms.
Trilobites were among the first animals to have hard body parts and easily recognizable eyes. While most trilobites were on the order of several centimeters long, a few species reached lengths of over half a meter.
Wander among prehistoric beasts in the Paleontology Hall, a permanent exhibition at the Houston Museum of Natural Science.
You can see more images of this fascinating artifact – as well as the others we've posted so far this year – in the 100 Objects section at 100.hmns.org.