The Houston Museum of Natural Science was founded in 1909 – meaning that the curators of the Houston Museum of Natural Science have been collecting and preserving natural and cultural treasures for a hundred years now. For this yearlong series, our current curators have chosen one hundred exceptional objects from the Museum's immense storehouse of specimens and artifacts—one for each year of our history. Check back here frequently to learn more about this diverse selection of behind-the-scenes curiosities—we will post the image and description of a new object every few days.
This description is from David Temple, the museum's curator of paleontology. He's chosen a selection of objects that represent the most fascinating fossils in the Museum's collections, that we'll be sharing here – and at 100.hmns.org/ – throughout the year.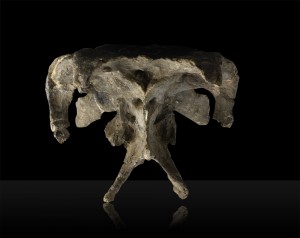 This curious item is the rear portion of the braincase from the Museum's Diplodocus. This portion of the skull was recovered in the original 1902 excavation in Wyoming. The skeleton was studied in 1924, and the information derived from this bone and others indicated enough difference from other species of Diplodocus for classification as a separate subspecies, Diplodocus hayi, making it the holotype specimen and only mounted example of this subspecies in the world.
The braincase is not mounted with the rest of the skeleton. The skull mounted on our skeleton is from the sub-species Diplodocus carnegii. With the expansion and redesign of the Museum's paleontology hall, the unique braincase will join a remounted Diplodocus on display.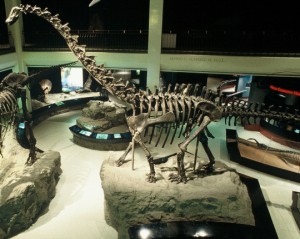 Originally collected by Carl Utterback for the Carnegie Museum in Pittsburg, the dinosaur was overshadowed by the Carnegie's existing mount of a related subspecies, Diplodocus carnegii. Named for the museum's principal benefactor, wealthy industrialist Andrew Carnegie, the specimen became the institution's principal attraction with casts being given as gifts to museums around the world.
Mostly forgotten and relegated to storage at the Carnegie Museum, the dinosaur was acquired by Houston in 1962 with support from the Junior League of Houston. It became Houston's first dinosaur citizen and was unveiled at HMNS in 1975.
Learn more about the ankylosaur: check out David's post "Ankylosaur at HMNS: A 40-year mystery solved" Or, wander among prehistoric beasts in the Paleontology Hall, a permanent exhibition at the Houston Museum of Natural Science.
You can see more images of this fascinating artifact – as well as the others we've posted so far this year – in the 100 Objects section at 100.hmns.org.