The Houston Museum of Natural Science was founded in 1909 – meaning that the curators of the Houston Museum of Natural Science have been collecting and preserving natural and cultural treasures for a hundred years now. For this yearlong series, our current curators have chosen one hundred exceptional objects from the Museum's immense storehouse of specimens and artifacts—one for each year of our history. Check back here frequently to learn more about this diverse selection of behind-the-scenes curiosities—we will post the image and description of a new object every few days.
This description is from Nancy, the museum's director of the Cockrell Butterfly Center and curator of entomology. She's chosen a selection of objects that represent the rarest and most interesting insects in the Museum's collections,that we'll be sharing here – and at 100.hmns.org– throughout the year.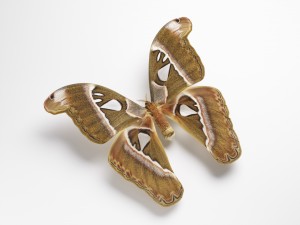 Atlas moths are the world's largest lepidopteran (Lepidoptera is the insect order that includes butterflies and moths), and indeed are one of the world's largest insects. Members of the Saturniidae, the giant silk moth family, these impressive moths are closely related to our North American cecropia moth.
The Atlas moth's wings are subtly but beautifully colored in tans and maroon, with four transparent patches, one in each wing. The elongated tips of the forewing seem to resemble the head of a snake, complete with an eye.  Like all saturniids, Atlas moths have feathery antennae, the male's much larger and bushier than the female's ("the better to smell you with, my dear!").  The specimen pictured here is a female.
Learn more about moths and their relatives in a visit to the new Brown Hall of Entomology, a part of the Cockrell Butterfly Center– a living, walk-through rainforest at the Houston Museum of Natural Science.
You can see more images of this fascinating artifact – as well as the others we've posted so far this year – in the 100 Objects section at 100.hmns.org