The Houston Museum of Natural Science was founded in 1909 – meaning that the curators of the Houston Museum of Natural Science have been collecting and preserving natural and cultural treasures for a hundred years now. For this yearlong series, our current curators have chosen one hundred exceptional objects from the Museum's immense storehouse of specimens and artifacts—one for each year of our history. Check back here frequently to learn more about this diverse selection of behind-the-scenes curiosities—we will post the image and description of a new object every few days.
This description is from Joel, the Museum's President and Curator of Gems and Minerals. He's chosen spectacular objects from the Museum's mineralogy collection, which includes some of the most rare and fascinating mineral specimens in the world, that we'll be sharing here – and at 100.hmns.org– throughout the year.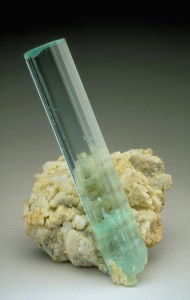 Beryl (variety Aquamarine)
Dusso, Northern Areas, Pakistan
Aquamarine crystals from northern Pakistan have been known for nearly a century, but superbly gemmy, lustrous, beautifully formed crystals on white feldspar matrix such as the one pictured have always been rare. Especially unusual is the remarkable clarity of the 13-cm crystal for its relatively large size, as larger crystals tend to have more internal flaws and milkiness.
Marvel at the world's most spectacular collection of natural mineral crystals in the Cullen Hall of Gems and Minerals at the Houston Museum of Natural Science.
You can see more images of this fascinating artifact – as well as the others we've posted so far this year – in the 100 Objects section at 100.hmns.org.