This comment and photo were emailed to us on the blog a few days ago.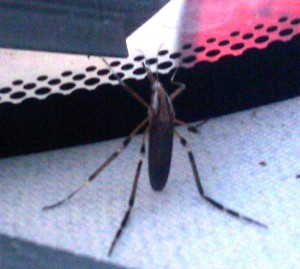 "My friend was out on the Katy prarie the other day and left her window down. Upon her return to the vehicle, she discovered nearly 100 of these little guys swarming inside her Tahoe. Can you please tell me what they are?"
The insect in question this time is one that is VERY common around here, and perhaps, like most insects, quite misunderstood! This picture was taken inside a woman's car out near the Katy Prairie. Since the photo is blurry, it's hard to get a really positive identification, but it looks to me like a member of the family Tipulidae, or crane flies. These flies are not usually called  by this name. Growing up, I knew them as mosquito hawks, or skeeter eaters! Some might even think that they are actually giant mosquitoes. It was not until I started studying Entomology in college that I learned their true identity and what they really do, which is…not much of anything at all!
The family Tipulidae contains 14,000 different species of crane flies, making it the largest family of flies. They are found literally all over the world.  They may resemble their close cousins the mosquitoes, but they want nothing to do with human blood or any blood for that matter. Often the adults don't feed at all, but if they do, they stick to flower nectar. Mosquito hawk is definitely a misnomer. The larvae, which are active eaters, don't eat mosquito larvae, they only feed on rotting organic matter and sometimes roots. The larvae of some European species can become pests in lawns.
The real mosquito hawk is actually a type of mosquito! These awesome mosquitoes belong to the genus Toxorhynchites, which is just as fun to pronounce as it is to spell! As adults, these are one of the very few types of mosquitoes that do not feed on blood. They prefer nectar as well. The larvae are active predators, especially on other mosquito larvae, so we really like these guys! Dragonflies are also sometimes known as mosquito hawks also since they chow down on them during all stages of their lives.
Crane flies are usually one of the first bugs I see emerging in the spring. You can identify them by their extremely long legs, which are very fragile, and their clumsy flight. The woman who took this picture said that she had nearly 100 of these in her car since her window was left open. I'm not sure exactly what they were doing, but my best guess was that they were late season adults swarming together in search of a mate to complete their lifecycle before it's too late.  So next time you see something that looks like a giant mosquito, don't swat at it, it means you no harm! Happy bug watching!