The Houston Museum of Natural Science was founded in 1909 – meaning that the curators of the Houston Museum of Natural Science have been collecting and preserving natural and cultural treasures for a hundred years now. For this yearlong series, our current curators have chosen one hundred exceptional objects from the Museum's immense storehouse of specimens and artifacts—one for each year of our history. Check back here frequently to learn more about this diverse selection of behind-the-scenes curiosities—we will post the image and description of a new object every few days.
This description is from Tina, the museum's associate curator of malacology. She has chosen a selection of objects that represent the most fascinating shells and animals in the Museum's collections, that we'll be sharing here – and at 100.hmns.org– throughout the year.
Spondylus linguafelis – Sowerby, G.B. II, 1847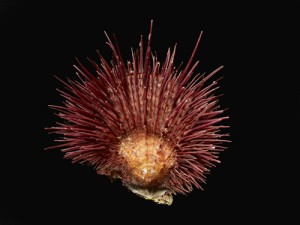 This extremely fragile, colorful species is a member of the Pectinoidae family of marine bivalves.  They are found in Hawaii, Polynesia, the Solomon Islands to Western Australia.  The long-spined specimens are found in sunken ships and in underwater caves, which makes them dangerous to collect for divers.  Colors range from purple to yellow to white, but multi color variations are sometimes found.
You can see more images of this fascinating artifact – as well as the others we've posted so far this year – in the 100 Objects section at 100.hmns.org