The Houston Museum of Natural Science was founded in 1909 – meaning that the curators of the Houston Museum of Natural Science have been collecting and preserving natural and cultural treasures for a hundred years now. For this yearlong series, our current curators have chosen one hundred exceptional objects from the Museum's immense storehouse of specimens and artifacts—one for each year of our history. Check back here frequently to learn more about this diverse selection of behind-the-scenes curiosities—we will post the image and description of a new object every few days.
This description is from Dirk, the museum's curator of anthropology. He's chosen a selection of objects that represent human cultures throughout time and around the world, that we'll be sharing here – and at 100.hmns.org – throughout the year.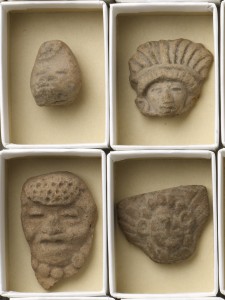 This collection of ceramic figurine fragments was chosen because it illustrates the problem many museums face. What do we want to display? What do we want to collect?
In most cases, the answer will be "museum quality" pieces, which often translates into "pristinely preserved." While there are a good number of high quality pieces out there, there are many more that are broken. That is what we see here.
These imperfect reminders of a past are no less important than an intact piece. For one, as is the case here, the sheer volume of figurine fragments from Mesoamerica tells us that they were abundant. What were they used for? Where do we find them? How were they made? Even broken artifacts like these can give us some answers. For this reason alone, they are treasured given a spot on our virtual exhibit.
Explore thousands of years of Native American history in the John P. McGovern Hall of the Americas, a permanent exhibition at the Houston Museum of Natural Science.
You can see more images of this fascinating artifact – as well as the others we've posted so far this year – in the 100 Objects section at 100.hmns.org