The Houston Museum of Natural Science was founded in 1909 – meaning that the curators of the Houston Museum of Natural Science have been collecting and preserving natural and cultural treasures for a hundred years now. For this yearlong series, our current curators have chosen one hundred exceptional objects from the Museum's immense storehouse of specimens and artifacts—one for each year of our history. Check back here frequently to learn more about this diverse selection of behind-the-scenes curiosities—we will post the image and description of a new object every few days.
This description is from Dr. Robert Bakker, the museum's associate curator of paleontology. He's chosen a selection of objects that represent the most fascinating fossils in the Museum's collections, that we'll be sharing here – and at 100.hmns.org/ – throughout the year.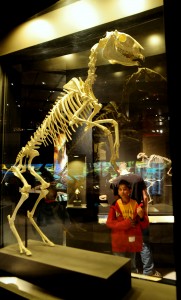 Folks stop and stare at our fossil horse. It is cute in a coltish way, all gangly and long-legged. And it is dynamic – rearing up as if it just saw you and was whinnying a "Hello!"
But sharp-eyed visitors take a second look. Our Merychippus demands a digital double-take. Count the toes. There's one big hoof on each foot, as there should be. It's a horse, of course. The French word is "solipede," meaning "Single Toe Foot." Today, among all animals domestic and wild, horses and only horses have just the single, solitary toe to run on.
Wait – look closely. There's more. Our Merychippus has too many toes. There are extra digits, little ones, on the inside and outside of the main hoof. The mini-toes have hoofs too but they're narrow and pointed.
I imagine I'm petting our Merychippus along its muzzle, like I do to my neighborhood ponies. And I'd feel another odd thing – Merychippus has a more delicate, lightly-built face and nose. If you stare at the fossil, you see a row of molar teeth far smaller than any horse-owner would expect.
Those small molars and accessory digits tell a story that's literally earth-shaking. Back in the 1870s, Merychippus and the other three-toed horses shattered the scientific status quo. The side-toes made Archbishops fume and fuss and get red in the face. German philosophers smiled and puffed their pipes with satisfaction.
You see, Merychippus proved that Darwin was right. Click here to read the full story.
Wander among prehistoric beasts in the Paleontology Hall, a permanent exhibition at the Houston Museum of Natural Science.
You can see more images of this fascinating artifact – as well as the others we've posted so far this year – in the 100 Objects section at 100.hmns.org.