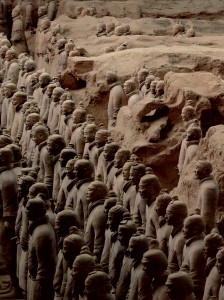 Only six days remain. Six days, to see one of the eight wonders of the world. The Terra Cotta Warriors, from Xi'an, China, will be available for your viewing pleasure, for six more days.
Have no fear. Here at HMNS, we know you've been busy – and this is something that no one should miss. So, we're making things just a little bit easier for you to meet the warriors before they're gone. We are extending our normal viewing hours to make sure as many people as possible have the time and chance to see this amazing exhibit before it leaves.
We will open at our normal hour of 9 a.m. on Friday, October 16 for a 63-hour Terra Cotta Warriors marathon and we won't close until midnight on Sunday, Oct. 18. That's 63 straight, uninterrupted hours for you to come in and see the exhibit. Want to meet China's First Emperor at 3 a.m.? No problem.
63 hours. To put this span in perspective, I've devised a list of a few activities you might be able to do in 63 hours.
*Fly to the moon. A manned spacecraft takes roughly three days to fly to the moon.
*Learn the names of all 203 recognized U.N. countries.
*Watch "The Burning of the Red Lotus Temple," a 1928 Chinese film that runs at about 27 hours, 2 1/5 times.
*Run the world's fastest marathon (at two hours and four minutes) almost 30 times.
*Have a cell divide anywhere from two to five times inside of you.
*Listen to the song "Choak and Ace" (at a recorded length of 4 hours, 27 min, and 32 seconds) 13 and 1/3 times
*Go through almost one percent of pregnancy (not really recommended for the men reading this.)
*Experience the Terra Cotta Warriors at HMNS. This probably won't take the full 60 hours. However, it is less dangerous than flying to the moon, won't get stuck in your head like listening to the same four hour song 13 times, and is a lot less tedious than learning the names of 203 countries.
If you haven't seen the warriors yet, we hope you'll come by this weekend – any time.  See you there!