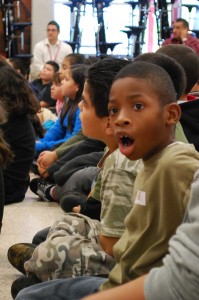 Kids at Cornelius Elementary
react to our magicians' illusions
(and then learned the science
behind them) at our official
announcement of the exhibit
at their school today.

Click here to check out photos
from the event!

National Magic Week might not seem like something a science museum would get excited about (as opposed to, say, National Mole Day. Which today totally is. 10/23… get it?).
However, as students of magic know – things are not always as they appear. [Insert diabolical laughter here.]
Though magical methods are often enshrouded in secrecy, in reality, magicians combine the art of performance with a variety of scientific disciplines, including math, physics and psychology, to create their dazzling effects and fascinating illusions.
Which is why we are very excited about our just-announced spring exhibit: Magic: The Science of Wonder, opening Feb. 26, 2010. This extraordinary exhibit will examine how science and magic are intertwined, tapping into our universal desire to know "How does that work?" We think magic is the perfect subject to inspire people of all ages—especially kids—to learn about the science behind the magic, and the world around them.
So, we're kicking off this year's National Magic Week – an annual celebration of The Society of American Magicians, which falls Oct. 25 – 31 – with a FREE magic performance in our Grand Hall tomorrow. Come at 1 p.m. to be dazzled by nationally known magician Curt Miller – you won't believe your eyes as Curt makes a volunteer from the audience levitate in midair. Or, stop by any time between 11 a.m. and 3 p.m. to marvel at close-up magic from Scott Hollingsworth and Scott Wells. See if you can figure out how they do it!