Poor, poor spiders! People are always saying "I hate spiders," "I'm arachnophobic," and "I kill any spiders I see!" Hearing these things just breaks my heart! Spiders are some of the most feared and completely misunderstood creatures in the world. 50% of  women and 10% of men have at least a mild case of arachnophobia, and even more claim that they do. I find that most people will tell me that they have arachnophobia, but after being coaxed to pet my 15 year old tarantula Rosie, they become absolutely fascinated by spiders!
Arachnophobia is a real, irrational fear that can cause panic attacks in people who are afflicted, but most people don't actually have it! My uncle, for example, claimed to be so afraid of and grossed out by spiders. One day, he noticed a large St.  Andrews Cross spider residing outside of his office window. At first he was repulsed, but after a little research, he found out that it was harmless, beneficial, and actually quite attractive. He then started asking me questions about it and now this self -proclaimed bug-hater is buying lady bug kits for his 5 year old daughter. I'm so proud!
Why do so many people fear spiders? Possibly because it's learned from our parents, or because of the way they are portrayed in movies and on TV, or maybe it's just the way they look! Whatever it is, just a little bit of knowledge can go a long way in helping you get over your fear. Probably the most feared spider in the United States is the brown recluse. This poor little spider has found itself caught in the middle of a string of urban myths which have led to the deaths of tons of innocent spiders!
How bad is a brown recluse bite? It can kill you! It will make your body parts fall off! It will scar you for life! False, false, and false! The brown recluse, as evidenced by it's name, is a very shy and reclusive spider. They are not aggressive and certainly don't seek out anything to bite that cannot be it's prey. They have extremely small fangs that cannot bite through clothing. In fact, they have a heck of a time biting unless they are smushed up against your skin. This is often the case when people are actually bitten by these spiders. They roll over onto it in a bed, it gets tangled up in clothing or shoes, whatever it is, they will only bite in response to pressure that they can't escape from. But don't be afraid of your bedding, clothes, and shoes all of a sudden! Recluses seek shelter in undisturbed areas, so best to check or wash your guest room bedding before people stay with you, and shake out those shoes or clothes you haven't worn in years!
Actual brown recluse bites are extremely rare and the large majority of bites heal fine with no need for medical intervention at all. Bites are misdiagnosed all of the time even by medical professionals! There are tons of other conditions that have very similar symptoms to a brown recluse bite, including, but not limited to: Staphylococcus infections, gangrene, herpes, diabetic ulcer, fungal infection, chemical burns, dermatitis, squamous cell carcinoma, vasculitis, syphilis, toxic epidermal necrolysis, sporotrichosis, and lyme disease or other insect bites. Conditions such as these are way more likely to be the culprit if you find yourself with necrosis of the skin.
Approximately 80% of bites are misdiagnosed and can prevent proper treatment of what could be a serious disease. There HAVE been cases reported of significant reactions and even deaths associated with actual brown recluse bites, but usually only with the very young, elderly, or people with a weak immune system. All in all, the chances of you getting a bite and having any severe reaction are extremely slim. The best thing to do is exercise caution when dealing with old linens, shoes, clothing, boxes, and other things that have been undisturbed for quite some time. Other insects and other arachnids such as scorpions can also make homes of these things, so better safe than sorry!
People often think that every spider they see is a brown recluse, because they fear getting close enough to properly identify them.
Here are some tips to help you figure out that the spider you're looking at is NOT a brown recluse…
– It is in a web: recluses often line their hiding places with an irregular web, but they are active hunters that do not use a web to catch prey. If you see a web outside or even in a corner of your house, there is no brown recluse in it.  House and cellar spiders are commonly seen in your home, but don't be afraid of them. They are harmless and can actually eat brown recluses. If I have a small web in the corner of my home, I leave it be!
– It is a very large spider: the brown recluse is a medium to small spider, usually about the size of a dime or nickel at the largest. They are not very big at all!
– Brown recluses are not native to your state: They are not found all over the United States. If you live along the west coast, the east coast, or in the far north, you do not have them!
– It has colorful markings or patterns: The brown recluse is just that, brown! Their color can range from very light to darker tan, but they have very few marks. The violin shaped marking on their head can be darker than the rest of their body, or close to the same color and their abdomens have no markings.
– It has 8 eyes: the brown recluse is a sicariid spider meaning it has only 6 eyes. They are arranged in pairs in a specific pattern.
– You are seeing it!: again, they stay hidden during the day and hunt at night. Most people will never see a brown recluse in their lifetime!
There are lots of spiders that resemble the brown recluse. Several have markings similar to the violin marking. Many have a similar body shape. Others also have similar eye number and arrangement.
So what is the best way to identify a brown recluse? Practice! We always have one on display here at the Cockrell Butterfly Center, be sure to look at her closely next time you visit. There are several pictures online as well as pictures of spiders that are often mistaken for them.
If you find a suspicious spider in your home, bring it in for an identification, we'd be happy to look at it for you. If we do identify it as a brown recluse, remember not to panic, your home could be overrun with them and you will still probably never be bitten.
I hope I've shed some light on this shy little spider. We can all live with spiders, they shouldn't be feared, but respected. They are largely harmless, shy, beneficial, and some are out of this world gorgeous! So until next time, happy bug watching!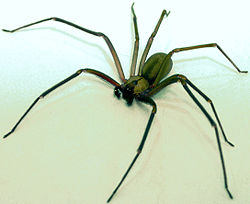 An actual Brown Recluse