20 years ago, it was still the 80s. The Hubble Telescope had not been launched, nor returned the extraordinary images from the deepest regions of space that inspire such wonder today. Construction on the International Space Station hadn't yet begun, and Pluto was still a planet.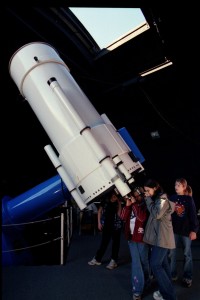 And, 20 years ago today, the George Observatory was born. Since then, countless school children, aspiring astronomers, and people just interested in seeing the beauty of the stars and planets have visited the facility in Brazos Bend State Park.
For 20 years, kids have participated in simulated space missions by heading for outer space in our Expedition Center. Visitors have gazed through our three telescopes, open to the public almost every Saturday night. Through our large 36′ Gueymard Research Telescope, visitors have been able to view the craters on the moon, all of the planets, comets, meteors, eclipses, and various stars and constellations. Using the telescope, a group from the Fort Bend Astronomy Club has discovered more than 400 asteroids – and named five of them. Come by on a Saturday night, and you'll meet many of them – as they're frequently on hand to share a look through their telescopes and a passion for observing.
Over the last 20 years, dozens of probes and satellites have been sent to scout nearby moons and planets. NASA has plans to study them in more detail, explore new masses, and is planning the completion of the International Space Station in 2011.
Who knows what the future of space holds for mankind? Supernovas exploding in the deep of space, space colonization, or even intelligent life on other planets. We fervently hope that the George will inspire kids to be a part of the future of science and space exploration, wherever that might lead them – and into an exploration of the unknown. We look forward to discovering the future of space and uncovering new mysteries along with you at the George Observatory.