Last week I gave a workshop/lecture at the Houston Arboretum about "Butterflies of Houston."  I had not chosen the title, and confess I was a little nervous about the emphasis – I can hold my own talking about butterflies in general, and especially about Central American butterflies, but I am not an "expert" on the local species.  Especially not the "LBJs" (little brown jobs; mostly skippers) of the butterfly world!  However, I put together my slides and gathered some field guides and hoped for the best.
It was a fun class.  The participants (regrettably, only about 9 people) were interested, knowledgeable and enthusiastic about their own butterfly gardening and viewing attempts.  We decided to go ahead with the scheduled field trip on Saturday even though the weather prediction was for possible rain.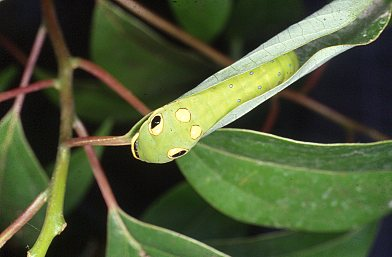 Spicebush Swallowtail Caterpillar.
It was overcast but not raining as we gathered in the Arboretum parking lot.  No butterflies were flying, but one of the participants quickly pointed out a smallish camphor tree that had the characteristic rolled leaves housing my favorite caterpillar, the spicebush swallowtail.  These adorable creatures look like toy snakes – they are bright green with large eyespots on their thorax.   A discussion ensued as to why some of the participants had never had spicebush caterpillars on THEIR camphor (or sassafras) trees.  We concluded (or at least I concluded) that the female butterflies really seem to seek out small trees – young saplings, not mature trees.  Perhaps the young trees haven't yet upped their levels of caterpillar-deterring chemicals, or perhaps their leaves are more tender.  Or perhaps the caterpillars are simply harder to find on larger trees.  And besides, the butterflies really do seem to prefer the hostplant they are named for – spicebush (Lindera benzoin) – but it really doesn't do all that well in our area.  In any case, I have noticed the same pattern (more caterpillars on small/young plants) in the citrus-feeding giant swallowtail as well.
Not finding much more in the parking lot, we wandered down the Outer Loop trail to the Meadow.  I had hoped to see a few forest butterflies such as tawny, hackberry emperors, red admirals, or even goatweed leafwings, along the Loop Trail, but no such luck.  However, soon after arriving at the Meadow, I was very excited to find caterpillars of the goatweed leafwing on the Texas goatweed (Croton capitatus, aka hogwort or woolly croton) plants growing abundantly along the roadside edge.  Like spicebush caterpillars, these guys hide in rolled up leaves of their hostplant during the day.  However, in contrast to the whimsical spicebush cats, leafwing catepillars are rather drab, greenish with whitish bumps on the body, and a slightly warty, dark head.  And, they spit copious amounts of bright green fluid when you try to unroll them!  I complained to my companions that I had just pulled two large goatweeds out of my garden after waiting all summer for caterpillars!  Perhaps I had given up too soon, or perhaps one needs to be closer to a forest habitat as a source of the egg-laying females.  Who knows? (This could be tested, however, if someone wanted a definitive answer!)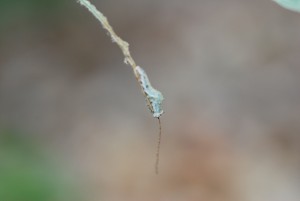 But back to the caterpillars:  another cool thing about leafwings is the unique "frass chains" that the caterpillars make when they are very small.  This damage is also characteristic of tropical members of this family, and I have seen it often in the field – often the first clue that a caterpillar is on a given plant.  What IS a frass chain?  First of all, you should know that "frass" is the technical (and very nice, I think) word for "insect pooh."  The tiny caterpillars eat the tip off a leaf, leaving just the midvein.  They then use their silk (all caterpillars have silk-producing glands in their mouths) to glue tiny pieces of their excrement (frass) to the end of the midvein, elongating it by as much as ½" (it helps to have a hand lens or magnifying loupe to see this).  They also sometimes glue random bits of dead leaf material along the midvein higher up.  Then, during the day, the little caterpillar, which is about the color of a dead leaf bit itself, sits at the end of the frass chain, hidden in plain sight.  So clever!  When it gets larger it moves into a rolled leaf (also held together with a bit of silk).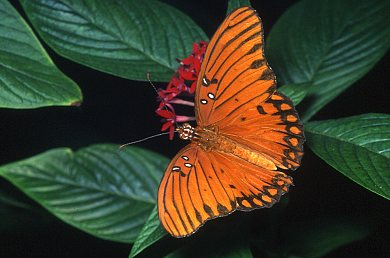 Gulf Fritillary, Agraulis vanillae.
We then noticed the much showier, spiny black and orange caterpillars of the most common butterfly we saw that day, the spectacular gulf fritillary.  Gulf frits, like all members of their subfamily (the longwing or passionflower butterflies) eat passionflower vines as caterpillars.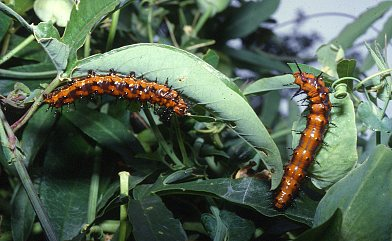 Gulf fritillary caterpillars on passionflower vine
And there was plenty of the native Passiflora incarnata, or maypop, growing in the Meadow.  The butterfly itself is one beautiful bug, especially the males, which, like many other butterflies and songbirds, are more brightly colored than females.  Males are a brilliant orange above, with a few black spots; females are similar but a duller orange.  The underside of both has sunrise-like hues of pinkish orange on the upper wing, and spots of silver (yes, silver!) spots spangling the lower surfaces of both fore and hind wing (rendering the butterfly very difficult to see when perched in the vegetation).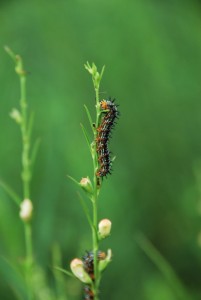 We also saw several buckeyes, one of our prettiest butterflies, with large eyespots and multi-colored patterns in brown, purple, orange, and blue on the upper wing surface.  The underside is quite drab and cryptic – it is hard to imagine it is even the same butterfly (but this is true of most butterflies, that the underside is drab or camouflaged no matter how showy the upperside).  We found buckeye caterpillars too, blackish and spiny, easy to see on the slender upright stems of their hostplant, Agalinis fasciculata or false foxglove.
I was determined to identify some skippers, even though this large group of mostly small, mostly brown, mostly very fast-flying butterflies had heretofore been a bigger challenge than I wanted to take on.  But I had my reputation to uphold!  We did come across several individuals, and luckily the group was patient as I flipped through the field guides.  Eventually we managed to identify to all of our satisfactions the skippers we saw, including a clouded skipper, an ocala skipper (we think), and a fiery skipper.  Much easier to ID was the showy (in skipper terms) white-striped longtail – the brilliant white stripe on the underside showing clearly when it perched to sip from the lavender blazing star (Liatris) or ironweed (Vernonia) flowers blooming profusely in the Meadow at this time.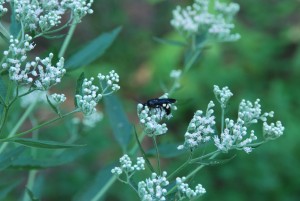 We did not see any blues or hairstreaks (well, I saw a tiny Ceraunus blue and a gray hairstreak after the group had left) but we did see several other interesting insects.  A pretty scoliid wasp – metallic black with bright creamy white spots on the abdomen – was very interested in the abundant flowers of late-flowering Boneset (Eupatorium serotinum). This native plant looks like a weed except when it is blooming, as it does only at this time of year.  Its tiers of small, fuzzy, white, fragrant flowers attract many small butterflies, especially hairstreaks and skippers, along with other insects including wasps, flies, and ermine moths.  On the goatweed we encountered several groups of a funny little bug (a hemipteran, or true bug) that looked much like a Volkswagon beetle.  The nymphs were gregarious, huddling in groups of 5-8 individuals.  When we disturbed one group, they followed each other in a little train until they found a new place to rest.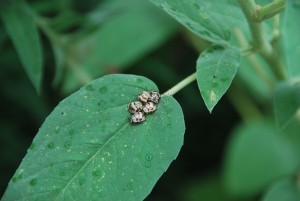 Finally we saw a really big butterfly – the powerful and dramatic spicebush swallowtail, which we were able to identify on the wing (it never landed) as a male because of the greenish (rather than bluish) wash of scales on the upper side of the hind wing.  A gorgeous butterfly.  On a sunnier day we might have seen other swallowtails – probably giants, possibly pipevines, perhaps Tiger swallowtails, which I have seen at the Arboretum on other occasions.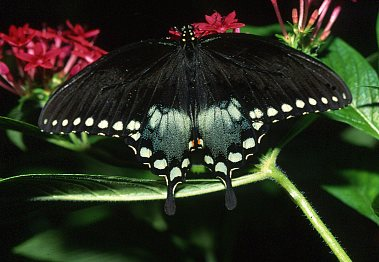 Male Spicebush Swallowtail Butterfly.
Photo by Carlos Hernandez.
In sum, although we didn't see hordes of butterflies, we all agreed it was a pleasant and productive outing, and finding all the caterpillars bodes well for the coming weeks.  After our relative success identifying skippers, I am ready to get out on a sunnier day when more are flying – and tackle more species!
Note:  If you are interested in watching butterflies, you should invest in a pair of close-focusing binoculars.  These are now widely available.  The difference between regular binoculars and these is that the closest you can focus with regular binoculars is about 10 feet or so – with close focus you can get to within 4 feet of your subject.  This is especially useful for observing small things like insects.  Both kinds are equally good for focusing on things far away, so you don't lose anything by choosing close focus.
You will also want a field guide or two.  Although not really a field guide, I recommend John and Gloria Tveten's "Butterflies of Houston and Southeast Texas" – it has gorgeous photos of adults and often the caterpillar stage, and tons of good information about the habits and habitats of most of our local butterflies.  You should also pick up either the "Kaufman Field Guide to Butterflies of North America," or Jeffrey Glassberg's "Butterflies through Binoculars:  the East."  These are much less detailed than the Tveten's work, but are much more comprehensive (and useful not just in Houston). Those of you who really get into caterpillars will want a copy of David L. Wagner's "Caterpillars of Eastern North America."   This book has fabulous photographs of nearly 700 caterpillars of both butterflies and moths, with a small illustration of the resulting adult, and nice descriptions of where the caterpillars are likely to be found and what they eat.  And don't miss Wagner's wonderful enthusiastic preface and introduction, which include all sorts of fun and useful information.
The next few weeks should offer prime butterfly watching.  So get out there – on a sunny day almost any area with some natural habitat and blooming plants should yield butterfly results!