The Houston Museum of Natural Science was founded in 1909 – meaning that the curators of the Houston Museum of Natural Science have been collecting and preserving natural and cultural treasures for a hundred years now. For this yearlong series, our current curators have chosen one hundred exceptional objects from the Museum's immense storehouse of specimens and artifacts—one for each year of our history. Check back here frequently to learn more about this diverse selection of behind-the-scenes curiosities—we will post the image and description of a new object every few days.
This description is from Nancy, the museum's director of the Cockrell Butterfly Center and curator of entomology. She's chosen a selection of objects that represent the rarest and most interesting insects in the Museum's collections,that we'll be sharing here – and at 100.hmns.org– throughout the year.
Kaiser-I-Hind or Emperor of India or Teinopalpus imperialis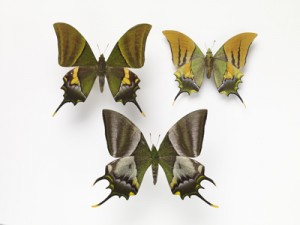 This stunning swallowtail is very rare, threatened both by over-collecting and by increasing destruction of its habitat.  Found in small pockets in northeastern India, Nepal, and Bhutan at 6,000 to 10,000 feet in the Himalayan mountains, it is today protected by Indian law but is still hunted illegally, as its unusual and beautiful coloration, and its rarity, make it highly prized by collectors.  Luckily, its strong, rapid, irregular flight and habit of perching high up in trees makes it difficult to capture.
The female (bottom photo), larger than the male, has several "tails" on the hindwing and large gray areas on both fore and hindwings.  The smaller male (top photos, upper side on left, underside on right) is a brighter green, with a brilliant yellow patch on the hindwing and only one tail.  Caterpillars feed on the leaves of trees in the laurel family.
Learn more about butterflies and their relatives in a visit to the new Brown Hall of Entomology, a part of the Cockrell Butterfly Center– a living, walk-through rainforest at the Houston Museum of Natural Science.
You can see more images of this fascinating artifact – as well as the others we've posted so far this year – in the 100 Objects section at 100.hmns.org