The Houston Museum of Natural Science was founded in 1909 – meaning that the curators of the Houston Museum of Natural Science have been collecting and preserving natural and cultural treasures for a hundred years now. For this yearlong series, our current curators have chosen one hundred exceptional objects from the Museum's immense storehouse of specimens and artifacts—one for each year of our history. Check back here frequently to learn more about this diverse selection of behind-the-scenes curiosities—we will post the image and description of a new object every few days.
This description is from Lisa Rebori, the Museum's Vice President of Collections. She's chosen a selection of objects that represent our Museum's history, and our collections of historical technologies, that we'll be sharing here – and at 100.hmns.org– throughout the year.
Made by William Cary
London, England
c. 1820
HMNS #119
Museum Purchase, 1970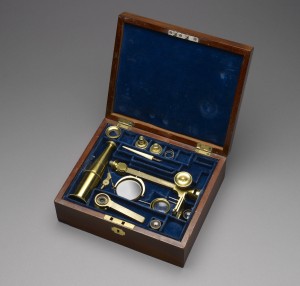 Included in the Museum's collections are examples of the various tools used by scientists through history. There are several examples of early optical equipment such as microscopes.
This microscope is very compact. Each piece has a special place in the fitted mahogany case.  The case was designed to be portable and to provide protection for the instrument inside. It was easy to carry, to share discoveries with friends or to carry into the field.
When assembled, the microscope attaches to the top of the case with a screw mount, and disassembles to fit compactly into the top tray, as shown here. The long brass arm in the center of the box screws in to a threaded hole on the outside of the box lid. The barrel, or main body tube of the scope (the tube on the left), fits into the arm and the eyepiece is screwed onto the top and lenses screwed onto the base. Underneath this top tray are fitted slots for glass slides and a series of small containers to hold the specimens collected in the field for future study.
This microscope is deceptively simple. The craftsmanship required to make all the various pieces and grind the lenses required great skill. Early instrument makers, like Mr. Cary, developed reputations for the quality of their work.  They signed their microscopes the same way that artists sign their work.  Most instruments are found unsigned. This model is signed on the pillar, "Cary, 181 Strand, London."
You can see more images of this fascinating artifact – as well as the others we've posted so far this year – in the 100 Objects section at 100.hmns.org