In an earlier post I mentioned that I'd be adding in some of the quirkier bits of the museum's past to the HMNS Centennial celebration. Here's one that just came my way.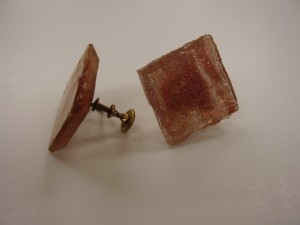 While enjoying lunch recently with Laurel Ladwig, a former Burke Baker Planetarium Manager, and her mother Katrina Ladwig, a long time supporter of the HMNS Guild, Laurel handed me a plastic bag full of jumbled brown squares. "Know what these are?" she asked. Ever the lightening fast wit that I am, I responded "Huh? No?" Most of the squares had old-fashioned screw-type ear clips fastened to them so obviously this brown jumble was some sort of jewelry but why was Laurel handing it to me?
"Think 60s," she hinted, thoroughly relishing my confoundment. Oh, yeah, that cleared it right up. With no further elucidation forthcoming from Laurel I gave in and asked what the heck these things were.
"Tiles!" she announced (satisfied with having stumped me). "Extra tiles from the original exterior dome of the planetarium."
No kidding! Boy, this is a new one on me. We've got newspaper clippings, correspondence, photos, blueprints, plaques, you name it, in the museum's historical archives. Jewelry fashioned from original building materials? Nope, this is a first.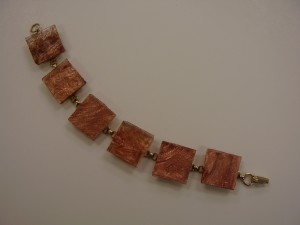 Laurel and Katrina don't have a lot of background on the jewelry but they shared what they knew. Apparently after the planetarium was finished in 1964, there were a number of small square tiles meant for the dome's exterior left over. Laurel's grandfather (Katrina's father) Wallace C. Thompson, a HMNS Board member at that time, had been instrumental in establishing the planetarium and her grandmother, Eloise Reid Thompson, decided to commemorate the opening of the planetarium by making jewelry out of the unused dome tiles. (You might remember an earlier post about Mrs. Thompson who was a wild flower artist. Many of her paintings are in the HMNS collection.) The tiles became earrings, bracelets, and cuff links. No one seems to know if Mrs. Thompson was the only one who did this or if there were others. Perhaps it was some sort of HMNS Guild project.
The tiles appear to be authentic; there are still plenty of us who remember when the planetarium dome had a coppery sheen to it. The old-fashioned screw ear clips fit that era and the glue has yellowed enough to be forty five years old. It'd be great to have these funky little artifacts validated; so if you can add any information or, better yet, have any similar pieces please let me know. They sure would be a fun addition to the historical archives during the museum's centennial celebration.