Have you ever wondered to yourself, "when is the best time to visit the Cockrell Butterfly Center?"  or "when can I come and enjoy exhibit without being surrounded by school children?" Well, this is it folks, right now – the best time ever to come and enjoy the exhibit halls of HMNS in relative calm and quiet.
September is a very slow month for us here. Children have just returned to school, field trips have not started and most everyone is too busy to even think about a trip to the museum. I would guess that most museums in the district go through this in the fall as well. It gives us some much needed time to slow down and work on things that we're not able to get to during the busy spring and summer. I really enjoy the quiet and we can literally hear crickets chirping in the Cockrell Butterfly Center!
What does this mean? This is a perfect time for a nice, relaxing visit, especially to the Butterfly Center. We still have plenty of sunny warm days where you can see a thousand butterflies flying around. If you are a photographer that is discouraged by the crowds, this is a great time to come and get some nice pictures. If you are a mother or father that stays home with small children, what a wonderful time for you. The noise and chaos of large school groups can be very intimidating to small children, especially if they have never been here before. I can't stress enough what a great time this is to visit, so if you're working, take a day off and take advantage of the amazing places that make up Houston's famous Museum district!
Right now, we have some absolutely amazing butterflies flying and  awesome insects in our Entomology Hall. If you are wild about blue morphos (who isn't?), you'll love these! The Indian Leafwing (Kallima paralekta) is a rare treat for us from Southeast Asia! Their camouflage is incredible. They look exactly like a leaf while at rest, but when they open their wings, they display brilliant blue and orange. They are one of my very favorites!
Another one we've been getting lately is the one-spotted prepona (Archaeprepona demophon). This butterfly, from Central and South America, is often mistaken for a blue morpho, but upon closer inspection, you can see that it's quite different!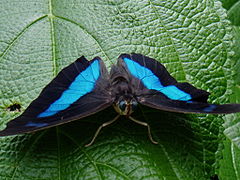 Archaeprepona demophon
If you have very, very good eyes, you may be able to spot our tiny Greta oto, also known as the clear wing, or glass wing. They are so small, but very beautiful and elegant! They also come from Central and South America and despite their size, have a big personality! As caterpillars, they feed on poisonous plants. They retain these toxins into adulthood, making them distasteful to predators. The males exhibit a type of behavior known as lekking. This is a mating behavior where males gather on a daily basis, in the same area, and assume the same position within a circular arena. Here, they put on mating displays, dances, and even engage in fighting, depending on the animal. Females come to the lek to be fertilized.
You will not find these butterflies on our identification chart. We don't get them often, so hopefully you will make the trip to see them! As always, we have some spectacular insects on display as well, including exotic and native beetles, katydids, walking sticks, spiders, scorpions, and creepy roaches! Well, not creepy to me.
I hope you will take advantage of this quiet time of the year. Come and bask in the peace and serenity of an almost empty butterfly center and hopefully have one of your favorite visits here at HMNS! Happy bug watching!